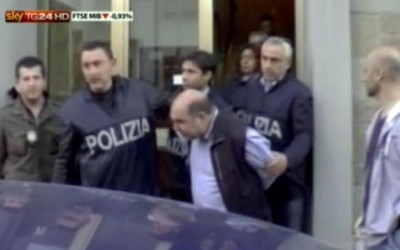 Italian police have arrested a suspected serial rapist over the killing of a prostitute who was found crucified naked on the outskirts of Florence.
Riccardo Viti, a 55-year-old plumber, was detained by security forces after a raid of the house he shared with his parents in a northern suburb of the Tuscan city.
"[We] managed to capture the beast," said Florence police chief Raffaele Micillo.
Viti is accused of raping and killing Andrea Cristina Zamfir, a 26-year-old Romanian immigrant and drug user whose body was found taped by the wrists to a road barrier under a highway overpass in the north-western suburb of Ungano.
Police said she died from internal bleeding after she was assaulted with a rod and raped. The same type of tape used to tie her was found at Viti's house by detectives searching the premises.
"It's over; no one can save me now," Viti reportedly said upon arrest.
A DNA test on traces found on the woman has been ordered and police said they are confident results will confirm Viti's responsibility.
"There is no doubt he committed the act," Micillo said, adding police believe Viti had struck before.
In March 2013, a 46-year-old female drug addict who occasionally prostituted herself, told police she was raped and robbed by a client who tied her to the very same road barrier under the overpass of the A1 motorway connecting Milan to Naples.
She described the attacker as a stocky, balding Italian man who drove a white minivan and had a strong Florence accent.
Viti was identified thanks her description and that of several other women who said they were assaulted in a similar fashion in recent years.
The case brought to light memories of Italy's most famous serial killer, the so-called Monster of Florence, who brutally murdered and mutilated eight couples in the outskirts of Florence a few decades ago.
Paolo Canessa, the prosecutor who followed the Monster's yet unsolved murders, is in charge of the investigation into Zamfir's death.