England's most infamous king, Richard III, will be re-buried today (26 March) three years after his remains were unearthed under a car park in Leicester.
The king who died 530 years ago in the Battle of Bosworth and was buried in a humble grave "now got the dignified send-off he deserved".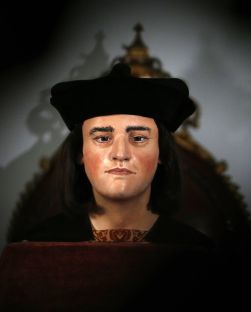 Richard III was depicted as a hunchbacked vile king who murdered his two nephews so he could access the throne after the death of his brother King Edward IV.
The Archbishop of Canterbury, Justin Welby, will be leading the history-making commemoration service at 11.30am.
Sophie, Countess of Wessex and the Duke and Duchess of Gloucester will be representing the Royal family.
Hollywood star Benedict Cumberbatch, who himself has been identified as a second cousin, 16 times removed of the dead king, will read a poem entitled Richard by Britain's Poet Laureate Carol Ann Duffy.
Queen Elizabeth is said to be offering a message, which has come as a surprise to many. Britain's royal family lineage comes from Henry Tudor, later Henry VII, from the dynastic House of Lancaster, who conquered Richard III, from the rival House of York at the Battle of Bosworth in 1485. His naked body was apparently thrown on the back of a horse and taken to Leicester and buried in a lowly grave. Henry supposedly only paid 10 pounds for a memorial for his enemy.
Thousands of people lined the street to catch a glimpse of the last Plantagenet monarch's coffin as it made its way to Leicester Cathedral from the University of Leicester, whose archaeologists made history and found the king's remains in a city car park in 2012.
Leeds taxi driver Shaun Dixon witnessed the coffin procession and was among those that passionately believed Richard should have been buried in York, where his dynasty reigned.
He said: "If the King can't come to Yorkshire, Yorkshire will come to the King."
Phil Stone, chairman of the Richard III Society, said he would now get the dignified send-off he deserved.
"At last he's been treated as he should have been 500-plus years ago," he told Reuters.