It has taken him five months but Rick Ross has finally defended his Maybach Music Group protege Meek Mill in his feud with Drake. The Sorry rapper has reignited the war of words by dropping a new diss track in which he takes aim at Drake, Lil Wayne and P Diddy.
Color Money will feature on Ross' forthcoming album Black Market and sees the US rapper boast about his wealth, claiming to be richer than Drake's Young Money boss Lil Wayne, while also name-dropping Drake's diss track Back To Back, which was aimed at Mill.
Ross raps: "My lil homie made a million on his girl tour/ We back to back and down to whack a n***a unborn/ Miami n****s got them changing all the gun laws/ So run Forrest got some shooters and they dying too/ I got more money than that p***y that you're signed to."
The lyrics appear to be a direct response to Drake's diss towards to Mill on Back To Back, on which he says: "You love her, then you gotta give the world to her/ Is that a world tour or your girl's tour?/ I know you gotta be a thug for her/ This ain't what she meant when she told you to open up more." Ross' reference to Forrest Gump is also related to Drake's lyrics on the song 0-100 as the Young Money star raps: "I run this s**t, they like Go, Forrest."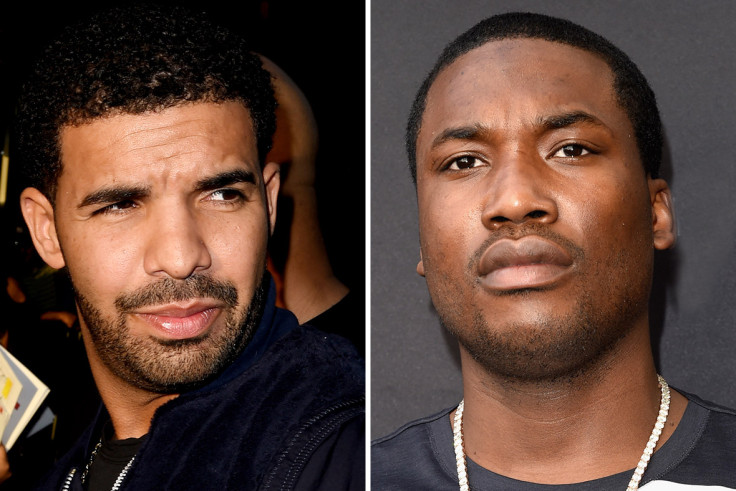 Ross, 39, also brushes off P Diddy's status as a successful businessman and positions himself as the number-one hip hop entrepreneur, rapping: "Double M, we balling way harder than Puff and them/ It ain't no love lost, I only see one boss," which is perhaps also aimed towards the likes of Jay Z and Dr Dre.
In July 2015, Meek Mill launched a Twitter rant accusing Drake of using a ghostwriter, sparking a huge debate in hip hop about the integrity of lyrics and resulting in the pair trading insults on several diss tracks. On his new album Black Market, Ross claims to be one of the biggest ghostwriters in hip hop.
Discussing his side gig for the first time, Ross told Time magazine in an interview: "[Ghostwriter] most definitely made it a more personal record, it made it a more – I don't want to use the word serious, but more a topic-driven record. I had a lot of time to just sit by myself, so I had a lot more things I wanted to address. That's what I did on this LP. I spoke on different things."
Black Market is set for release worldwide on Friday 4 December 2015.
Listen to Rick Ross' Color Money: