Ricky Hatton will return to the ring at Manchester's MEN Arena on November 24 against former WBA welterweight champion Vyacheslav Senchenko.
The Ukrainian suffered a surprise first defeat of his career in his last bout against, former Hatton victim, Pauli Malignaggi who stopped him in the ninth round in April this year to become a two-weight world champion.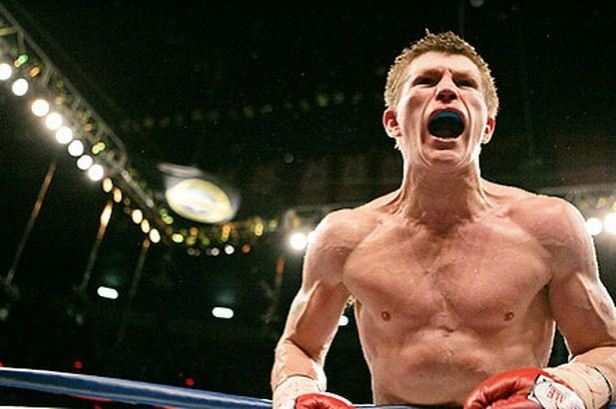 Senchenko was expected to overcome the brash New Yorker but tasted defeat for the first time and will now travel to England for the first time in order to face Hatton.
The Hitman will return to the ring for the first time in three-and-a-half years having decided to retire after being brutally stopped by Manny Pacquiao.
"I can't wait to get in the ring now," said Hatton. "I'm sure that Vyacheslav will give me a good fight, but it's one I am confident I can win. I believe this was as good an opponent as I could have had.
"Senchenko lost the last time he fought but he has a good pedigree. But I'm in great shape, I'm feeling good and I know I can put on a performance for those watching."
Many had expected Hatton to name Michael Katsidis as his comeback opponent as the Australian was still a good name who had just began to struggle after losing four of his last five fights.
However, Hatton has chosen a fighter who is still ranked 5th by the WBA in the welterweight division and has 21 knock-outs on his record.
The popular Manchester fighter will hope that an impressive performance against Senchenko will lead to him landing a shot at Malignaggi early next year.
The Italian-American fighter is defending his WBA strap against Pablo Cesar Cano on October 20 and has always stated that he would love a rematch against a man who stopped him in the 11th round back in November 2008.
"I want to see how he looks on his comeback," Malignaggi told Taslksport. "I want to see that he's ready and on form and of course the possibility of avenging a defeat always interests any fighter.
"I will be watching with keen interest on November 24 to see how he does against the opponent that they eventually choose.
"With all due respect to Ricky Hatton because I think he's done amazing things for boxing, he's done amazing things for the fans and I think he's an amazing individual just in his personality and how polite he has always been but I will knock Ricky Hatton out in a rematch. I have no doubt about that."