Ricky Hatton has announced that he will return to the ring on November 24 at the Manchester Evening News Arena against a yet to be named opponent.
The 33-year-old only officially retired from the sport last year but has not fought since his crushing two-round defeat at the hands of Manny Pacquiao back in May 2009.
Hatton has remained involved in boxing through his promotional company and acting as a trainer, but will now lace up the gloves once again as a professi9onal fighter.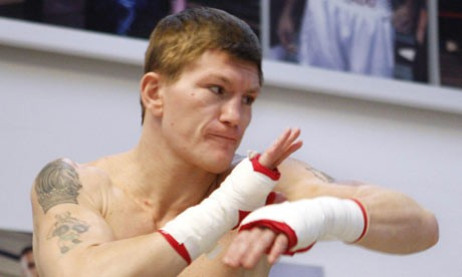 'The Hitman, a former WBA and IBF light-welterweight and WBA welterweight champion, will return to the ring with a professional record of 45-2, with his only previous losses coming against Pacquiao and Floyd Mayweather.
"It's great to be back," Hatton revealed at a press conference in Manchester. "The first thing I can start with is answering the questions a lot of people are asking as to why have I come back.
"There are a number of reasons. A lot of people have said, 'what are you doing it for Ricky? What do you need to do? You got beaten by two of the best pound-for-pound fighters of your generation - don't risk your legacy, we don't what to see you get hurt'.
"That's very nice for fans and friends to be worried about me from that point of view.
"But it's been well documented what has happened to me since the last time everyone saw me in a boxing ring. It was a two-round demolition against Manny Pacquiao, and nobody wants to end their career in that way.
"It consequently put me into retirement, which I never really wanted to do.
"It's been well documented what's happened to me personally over the past three years because of the manner of that last defeat. Basically, my life turned to mush.
"I've gone into the promoting, which I love and has done well for me, but it didn't exactly fill the void.
"I decided to take a trainers' licence out and I was in the gym every day of the week passing on my knowledge and what I've learned in the game to my fighters. I think that started the fire burning, working with the lads."
The two-weight world champion also revealed that money was not an issue; rather he had a desire to resurrect a career that ended with a brutal defeat.
"I'm not coming back to fight at four-round or six-round level. I'm coming back to fight for world titles," added Hatton. "But this comeback is worth more than any money, winning any amount of world titles.
"People don't know what has been going on in between my ears. There are a lot of things I've got to put to bed.
"I want British boxing to be proud of me again. I want my kids to look at me and say 'that's my dad there'."
Hatton did not reveal his opponent, but one viable option could be current WBA welterweight champion Paulie Malignaggi who was defeated by the Brit back in 2008.
The American fighter has admitted that he would love to avenge his loss, however, Hatton would likely want a tune up before challenging for a world title.