A video has been released of pop star Rihanna and former prime minister of Australia, Julia Gillard, during a charitable trip to Malawi.
The pair joined forces for the Global Partnership for Education (GPE), a campaign designed to improve the quality of education in developing countries.
They travelled to the country in January 2017 to meet with community leaders and schoolchildren as they sought to raise $3.1bn (£2.4bn) between 2018 and 2020 for educational causes.
In the video, Julia explains: "We're here really to get a sense of the dimensions of change and what more needs to be done, and we know these challenges are profound."
Rihanna who founded The Clara Lionel Foundation, added: "I'm really here to see it, it's one thing to read the statistics but I want to see it firsthand and find out all that can be done and where to start first."
Sharing a photo of her meeting students during her charity trip to Lilongwe on Instagram she wrote: "Met the bravest, most humble kids and young women this week! I can't wait to share more! #CLF #GC #GPE."
Hugh Evans, CEO of Global Citizen, was also present on the trip, with his organisation committed to helping GPE raise money and help children in more than 60 impoverished nations access education.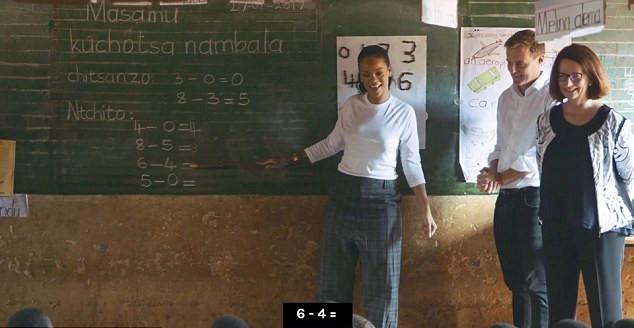 Malawi, one of the poorest countries in the world, has demonstrated a commitment to education as key to achieving its development goals.
A Global Partnership for Education partner since 2009, Malawi has been granted US$135m (£105m) to improve education quality and access, especially for girls and the most disadvantaged children.
However Angeline Murimirwa, Regional Executive Director of Camfed, told Mail Online that with one teacher to every 100 students and limited access to education the education system in the southeast African nation has been poor.
"Uptake ratio is simply how many students from primary school get to go to into secondary school,2 she said. "Statistically 70-75% of student get into primary school but only 8% get to complete secondary school."'
In May last year, Rihanna launched the Clara Lionel Foundation's Global Scholarship Programme, dedicated to giving people in nations such as Cuba, Haiti and her home country, Barbados, the chance to study at universities in the United States.
In February 2017 she was named Harvard University's 2017 Humanitarian of the Year.
The 29-year-old received the Peter J. Gomes Humanitarian Award during a ceremony at the Cambridge, Massachusetts campus in recognition of her personal initiative to develop a breast cancer treatment centre in her homeland of Barbados.
In December 2016, she joined forces with British royalty to convey a powerful message about HIV. In honour of World Aids Day, Rihanna and Prince Harry took an HIV test in her native Barbados to raise awareness and eradicate the stigma surrounding the condition.
Speaking at her annual Diamond Ball Gala benefit event in 2015, she explained that her charitable endeavours are an important aspect of her life. "Giving back is important to me and it should be important to everyone. If you have the ability to help and lend a hand, no matter how big or small, you should definitely make that your responsibility."