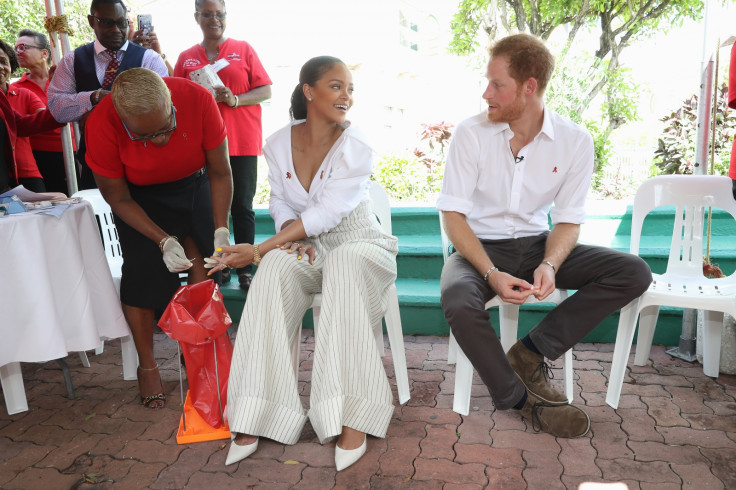 Pop royalty teamed with British royalty on Thursday to send a powerful message about HIV. In honour of World Aids Day, Rihanna and Prince Harry took a HIV test in her native Barbados.
A clip of the momentous moment was shared on the Kensington Palace Twitter page alongside a message stating that it was part of the royal's fight to eradicate the stigma surrounding the disease.
Although a brave Rihanna reassured Harry that the test was 'so easy', it didn't stop the fifth-in-line to the British throne from wincing at the sight of his blood being taken for the finger prick procedure.
"Do you know what you're doing?" he had asked the counsellor before the pair took their tests at the drop-in centre in Bridgetown, where they also spent time with volunteers. After a 20-minute wait they both received their negative results.
"Prince Harry has seen how Barbados has eradicated mother to baby HIV transmission – something to be proud of. However, there is still too much stigma on HIV and AIDS – it's time to end it."
As the founding member of charity Sentebale, which focuses on supporting HIV positive young people in Lesotho, Africa Harry has vowed to used his platform to highlight the issues surrounding the disease and encourage more people to be tested for the illness.
This is not the first time the flame-haired royal has taken part in public HIV testing. Back in July, the 33-year-old prince, in adherence to his mother's legacy, took an HIV test on Facebook Live at a visit to King's College Hospital. His later said: "We have a responsibility to ourselves, to the people we are in a relationship with, the people that we love."
On Wednesday night the pair were guests of honour at Barbados's 50th anniversary of independence celebrations.