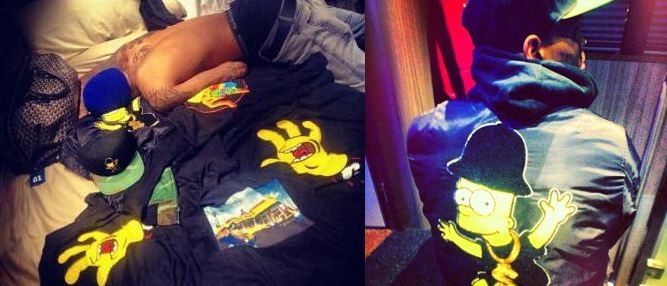 Rihanna has posted a photograph of Chris Brown on a bed, surrounded by memorabilia from popular American television show The Simpsons. The 24-year-old We Found Love singer's photograph shows off Brown and all his tattoos, with his jeans unbuttoned and underwear on display.
His cap and coat are seen tossed to one side of the messy bead, with a caption that reads: "Dis Nigga #BartObsessed". Brown posted a similar photograph earlier.
The photograph comes after reports the two spent Thanksgiving Eve together in Berlin and according to Hollywood Life, Rihanna was in Germany specifically to attend his concert.
The couple seemed to announce a second shot at a previously failed relationship after getting intimate during the 2012 MTV Video Music Awards (VMAs). The Caribbean singer tweeted her support for Brown before a court hearing in Los Angeles. However, the two continue to deny a relationship, even after being seen kissing at a New York City nightclub.
Earlier this month, Rihanna told Bravo host Andy Cohen the two were not together and Brown followed suit when asked by radio host Big Boy if they were romantically involved.
"With this video I did, I put a webisode out explaining my situation. With that, me being honest with myself," he said, "Me and her have history, and me and her are always gone be best of friends, and we're working on our friendship now."
"People say, 'How can you say it?'" he explained, "I guess when you feel it, you'll know it. ... It's just a touchy situation. When you do that, you have to do it for yourself. You can't do it for everybody else's feelings, and I love them to death. But it's just that at that time, I needed to be out there because I can't just be like, 'This is how I feel.' ... [But] they have to accept you for being honest."