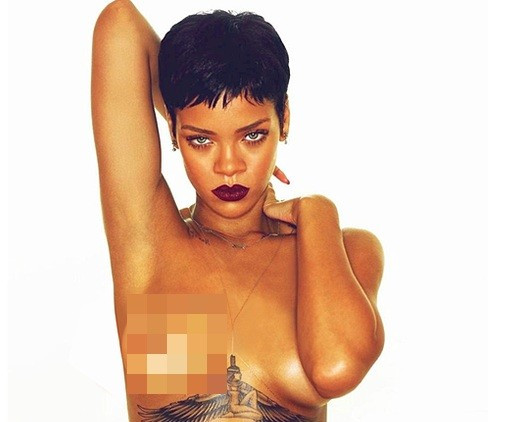 She is no stranger to showing off her assets but Rihanna has flashed a little more than planned after the apparently uncensored version of her Unapologetic cover leaked online.
Just weeks after the Diamonds star unveiled the topless artwork to her seventh studio album, a more revealing image is making the rounds on the internet.
While the completed version sees the 24-year-old singer with words such as 'faith', 'happy' and 'victory' scrawled all over her bare body the alleged original this shows her with one half of her chest completely uncovered.
Fans have reacted with scepticism. Some considered it an attempt to boast album sales others questioned its authenticity
One viewer wrote: "I hope her album do good."
Another commentator said: "That's one fake airbrushed titty. Oh yeah, and Who cares?"
Ahead of Unapologetic's release on 19 November, the We Found Love songstress used Twitter to unveil the track listing.
She confirmed her third collaboration with former lover Chris Brown on the track Nobodies Business and also revealed that she had worked with rap superstar star Eminem on a song titled Numb.