The claws are not out between singer Rihanna and supermodel Naomi Campbell. Rumours of a feud have floated since the stars unfollowed each other on Instagram but Campbell, 46, insists there is "no beef".
During the latest episode of Watch What Happens Live, host Andy Cohen read out a fan question asking Campbell if she is no longer friends with the Work singer. The catwalk queen coyly responded with a wink: "Everything's fine. Of course, it's fine." However, she added fuel to the fallout speculation by adding: "I'm an actress now, Andy."
Unconvinced by her response, Cohen pressed: "I'm trying to think what the beef could be about?" Campbell then offered a more in-depth explanation, stating: "I don't have beef. I don't have beef especially with black women who I think are powerful and out there, and we're all doing the same thing – doing the same struggle."
The alleged feud comes as a surprise considering Campbell and Rihanna, 29, were thought to have been close friends. In August 2016, Rihanna penned a heartfelt message on Instagram thanking the supermodel for wearing her Puma designs in a photo spread for Vogue Italia. The Kiss It Better singer wrote: "What a delight to see this beautiful Queen in my designs for @VogueItalia! This is a crazy feeling man!
"@iamnaomicampbell From the very first moment in your career, you've touched and inspired so many young girls all over the world! I was one of them, and to see this come full circle is a trip to say the least! I'm blessed to have you as a friend, one that will pick up the phone at any hour of the night, one that still makes time even when she has none, just to send me vitamins and facial products, or even tanning oil for my vacation lol!!! That's why these photos mean so much more to me, you're a True beauty, One love!"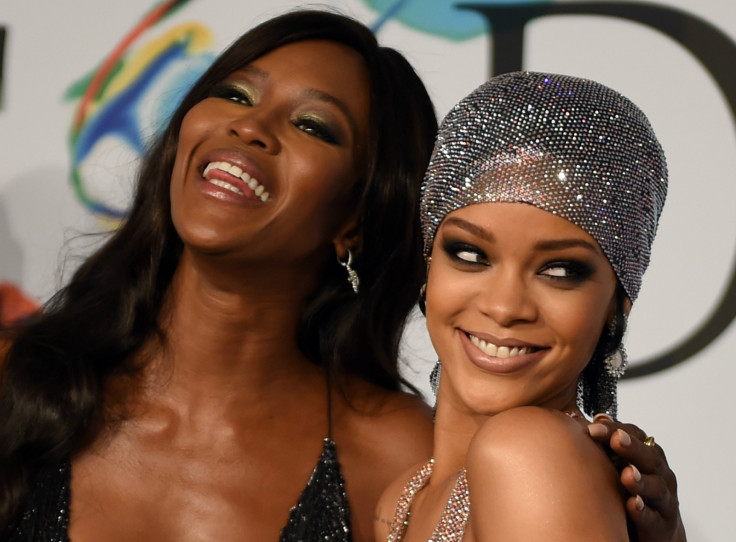 In March 2015, Campbell was alleged to have gotten into an altercation with fellow model Cara Delevingne in defence of Rihanna. A source told the New York Post's Page Six at the time: "Naomi accused Cara of 'disrespecting' Rihanna and started yelling, before Naomi pushed Cara, who pushed back."
However, both Campbell and Delevingne denied the incident occurred. On 8 March, Campbell posted a message of unity in celebration of International Women's Day, writing on Instagram: "We are strong, we are powerful, we are women #InternationalWomensDay #Strength#strongertogether."
Watch Naomi Campbell address her alleged feud with Rihanna: