Research in Motion is busy dealing with BlackBerry 10 matters at its conference in Florida at the moment, but that has not deterred the company giving something new to its existing customers.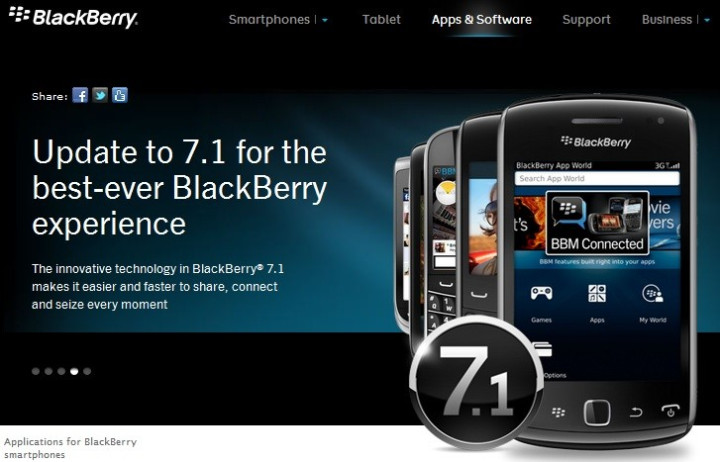 RIM has announced the BlackBerry 7.1 update for it customers in the UK.
The handsets that will receive this update include the BlackBerry Bold 9900, BlackBerry Torch 9810 and 9860, BlackBerry Curve 9360 and 9380, as well as the exclusive and expensive BlackBerry Porsche Design P'9981. One of the big updates coming with the new software is BlackBerry TAg, which is a new way of sharing content with other BlackBerry devices using NFC technology. However it will not be enabled for all carriers, but users can confirm this information with their respective service providers.
The new BlackBerry 7.1 OS incorporates the next generation Liquid Graphics performance, web browsing which priomises to be 40 percent faster than BB OS 6, as well as Augmented Reality and Near Field Communication.
Other new features in BlackBerry 7.1 OS include Mobile Hotspot, allowing you to connect your BlackBerry to five other devices and Battery Saving Mode, Mobile Media Server and for BlackBerry Curve 9360 and 9380 owners, they will not find an FM Radio included.
With BlackBerry Tag you can invite a friend to BBM and share music, files, photos, videos or URLs with a simple tap between two NFC-enabled BlackBerry smartphones.
The updated software also brings Wi-Fi tethering to the Blackberry line, enabling users to tether up to five connected devices using the handset's 3G connection.
From today, customers can upgrade their phones to BlackBerry 7.1 for free over-the-air or using BlackBerry Desktop Software.
Read More: #
BlackBerry Playbook 4G LTE With Better Processor and NFC Confirmed
BlackBerry 10 Dev Alpha Unveiled
RIM revelaed features of BlackBerry 10