A circus elephant has been hurt in a drive-by shooting in Mississippi after being hit by a stray bullet.
Melinda Hartline, a spokeswoman for the Ringling Bros and Barnum & Bailey Circus, which owns the elephant, said the animal was not seriously hurt.
The elephant had been in an outside area where the circus keeps animals in BancorpSouth Arena, Tupelo. Hartline said no other animals were hurt in the shooting.
Police chief Tony Carleton said a car drove past the arena in the early hours of the morning and fired shots. He said police are investigating the incident.
The elephant is believed to be moving around and is expected to make a full recovery. One specialist was flying to Tupelo to check on the animal.
Todd Hunt, the BancorpSouth Arena executive director of the circus, told the Northeast Mississippi Daily Journal: "We are frustrated and appalled that something like this would happen on our property.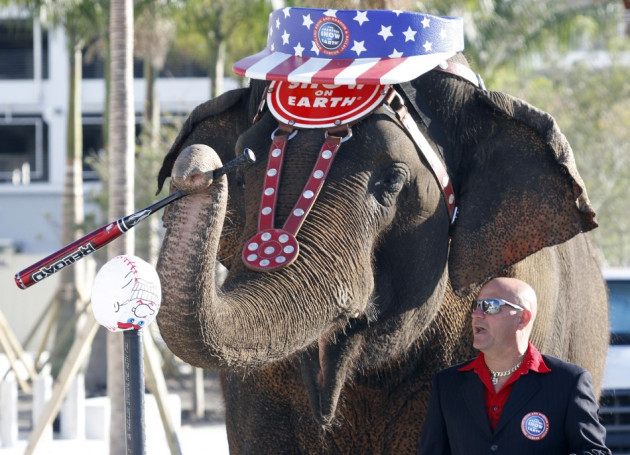 "Our concern is not only for the animals, but circus and arena personnel that were in the area. We want to assure them that Tupelo is safe and that this isn't normal or tolerated."
Travis Childers, the former first congressional district representative, added that he would be offering a reward for information leading to arrests of the people who shot the elephant: "How sorry is it to shoot a defenceless animal that was brought here to make children smile. This isn't representative at all of Tupelo."
Kevan Kirkpatrick, marketing director of the circus, told the Clarion Ledger that this was the first elephant shooting they had had, adding: "We hope the Tupelo Police Department apprehends these folks as quickly as possible and that they are punished to the full extent of the law."
Tupelo police captain Rusty Haynes said leads were "pretty slim" at the moment because they were "dealing with a victim that can't talk".
However, the police said they have been in touch with state and federal wildlife authorities as the Asian elephant is an endangered species; the crime will be treated as a federal offence under the Endangered Species Act.