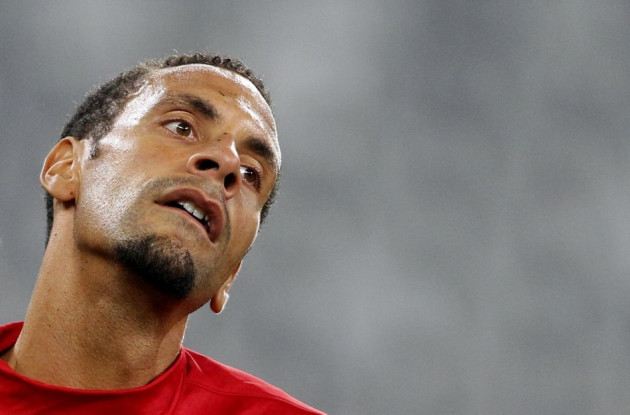 Rio Ferdinand has been fined £45,000 by the Football Association for laughing at a joke that described Ashley Cole as a "choc ice" on Twitter.
His seeming endorsement of the slur - which means someone black on the outside but "white" on the inside - is the latest twist in the saga that started with John Terry's alleged racial abuse of Ferdinand's brother, Anton, during a game.
Terry was found not guilty of racially abusing Ferdinand's brother Anton during a Premier League match between Chelsea and Queens Park Rangers. Cole, who like Ferdinand is mixed race, defended Terry in court.
Twitter user @carltonEbanks tweeted Rio Ferdinand, the 33-year-old Man U defender, and said: "Looks like Ashley Cole's going to be their [the Terry defence team's] choc ice. Then again he's always been a sell-out. Shame on him".
"Choc ice is classic! hahahahahahha!!" replied Ferdinand.
The independent commission presiding over the tweet case ruled that while Ferdinand's response did not make him a racist, it constituted improper conduct.
"The Football Association clearly states that this is not an allegation that Mr Ferdinand is a racist, concedes that he is not a racist but contends that his conduct in endorsing @carltonEbanks' tweet in a public forum is a term of abuse and brought the game into disrepute," the FA said.
"He [Ferdinand] accepted that the words of the tweet were insulting and conceded that the term could only be used when referring to a black or mixed race person and not a person with white skin.
"Mr Ferdinand therefore admitted that the term 'choc ice' referred to Mr Cole's colour, ethnic origin or race".
Shortly after the fine was imposed, Cole released a statement saying he still viewed Ferdinand as a friend.
"Ashley Cole wishes to make it clear that he and Rio Ferdinand are good friends and he has no intention of making any sort of complaint," Cole said.
"Ashley appreciates that tweeting is so quick it often results in offhand and stray comments."