The adult industry famously blows its own trumpet for being the influencers of make-or-break nascent technologies. Many still believe that it rang the death knell for Betamax in its war against VHS back in the late 1970s and 1980s, then was a contributing factor in the success of Blu-ray against HD-DVD. Now, it's playing a role in helping virtual reality to avoid being a flop.
A bevy of statistics released by adult website Pornhub has revealed a massive rise in the interest for VR pornography since it started hosting the content in June 2016 as views of the 360 degree videos have shot up by almost 250%.
Daily views of VR pornography on the site has gone from around 180,000 to now tipping 500,000 according to Pornhub's Insights service, which provides an interesting infographic snapshot of visitor viewing habits. One standout statistic is how Christmas Day saw the biggest spike with 900,000 views, worryingly.
The rise of VR porn is down mainly to the increase of affordable headsets. From Google's Cardboard and Daydream devices to Samsung's flagship Galaxy range giving the industry a shot-in-the-arm back in 2016 when its S7 shipped with its Gear headset. This would likely explain the sudden rise of view on Christmas Day as new owners of gifted VR headsets excitedly plugged in to see what the immersive tech can do.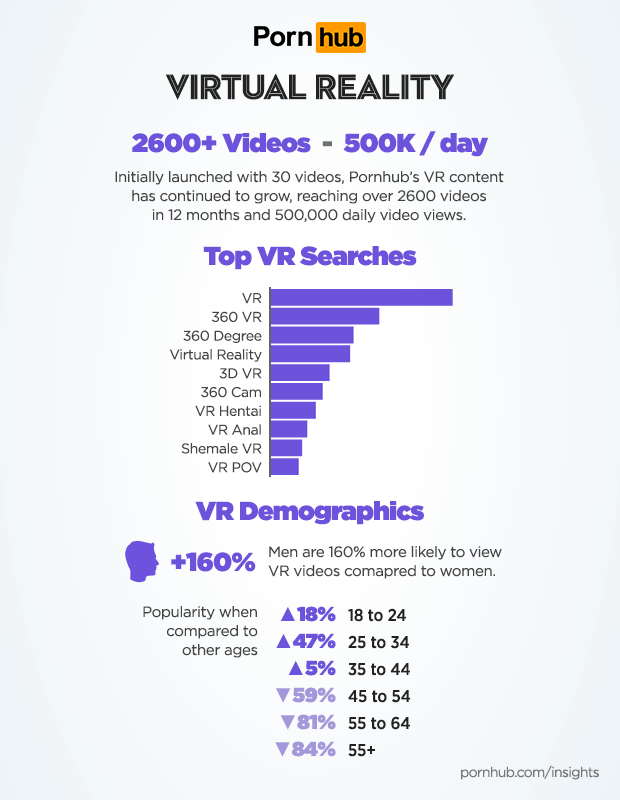 Porn, after all, has always been touted as one of the biggest proponents for the hardware platform with it being described by those in the industry as a "game changer". IBTimes UK was told by an executive at Naughty America, the US's third largest adult entertainment website, that the "whole idea of pornography has been leading to this moment". With high-end headsets such as the HTC Vive or Oculus Rift, which come with controllers that allow users to 'touch' and manipulate objects, it gives the adult industry the potential to make things even more 'realistic' for the viewer.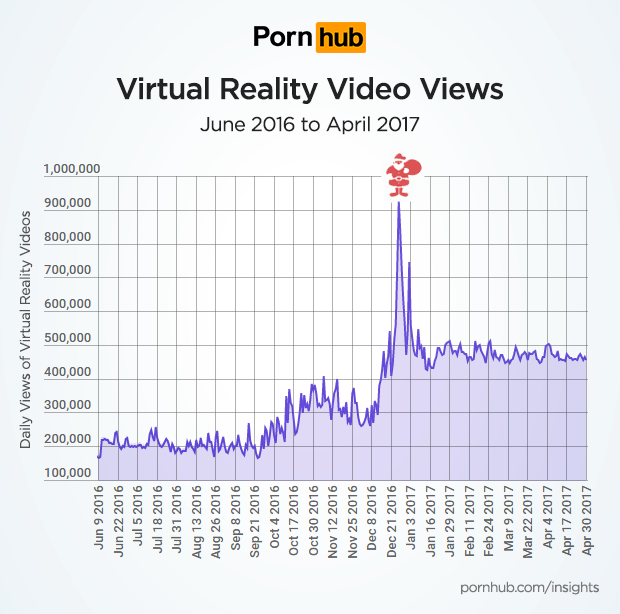 Pornhub revealed it now has over 2,600 VR related videos (up from just 30 back in June 2016) with a range of most popular searches from 'VR' to 'VR POV'. According to its data, men are 160% more likely to view VR videos compared to women and Thailand is the most popular country for VR searches with Hong Kong and the Philippines as second and third most interested nations.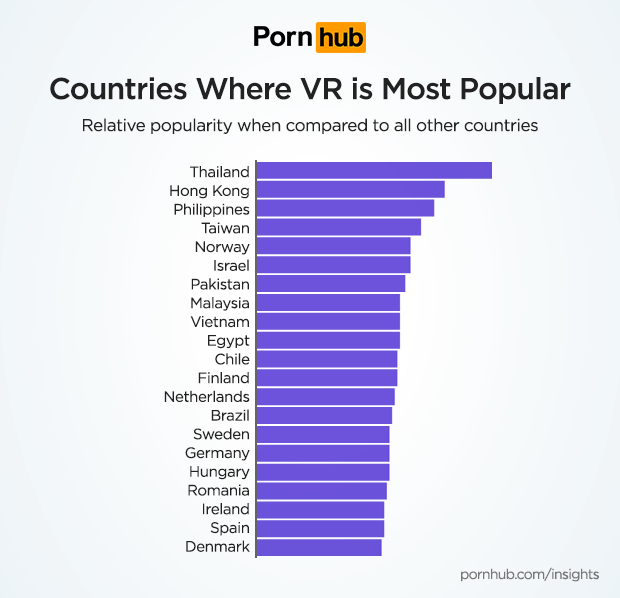 Interestingly, the UK and US appear to either be slow adopters or prefer the old fashioned formats as they do not even feature on a list of top 21 countries – although one slide did show how interest from the US is gaining more momentum from east coast states.
As the technology improves and the hardware becomes even more accessible the growth of VR porn is no doubt going to remain one of the fastest growing categories for the adult entertainment website.