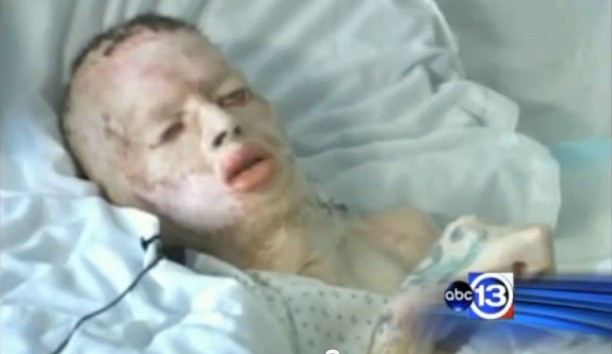 A man who was almost burnt to death as a child finally revealed the name of the man he said raped him and set him on fire - after keeping his identity secret for 13 years.
Robbie Middleton was celebrating his eighth birthday when his attacker tied him to a tree, doused him with petrol and set him alight in 1998. Middleton survived with 99 percent burns and underwent 200 operations.
But after amazing doctors in Texas by pulling through and almost making it to his 21st birthday, Middleton developed cancer and died. Experts said his devastating injuries had triggered the condition.
Shortly before he died in 2011, he made a deathbed video in which he named convicted sex attacker Don Collins as his attacker. Collins has now been charged with felony murder.
In the video, Middleton said he was celebrating his eighth birthday when he met his neighbour Collins on a path near their homes in Splendora.
The pair had met in the same spot two weeks earlier and Collins, then aged 13, had overpowered the younger boy and raped him.
"Don grabbed me by my shoulder and threw gas in my face. After that I don't really remember anything,' Middleton recounted in the video.
His mother, Colleen, explained why her son made the video. "'He did it because he was afraid that Don might attack another child and that was Robert's motivation for giving that deposition."
Collins was not prosecuted for the crime. But Middleton's family won a civil lawsuit against him and were awarded $150bn by a judge in a symbolic payout - the biggest award in US history.
This week, Montgomery County attorney David Walker changed the charge against Collins to felony murder which broadens the prosecution case to include the alleged rape.
It also means Collins can be tried as an adult even though he was only 13 years old when the crime took place.