Borussia Dortmund will reportedly sell Robert Lewandowski to any of his suitors, including archrivals Bayern Munich, if they are ready to match the striker's €25m [£21m] asking price.
The 24-year-old has just one year remaining on his current contract at the Westfalenstadion. Dortmund chief executive Hans-Joachim Watzke had stated last week that he expects the Pole to stay and honour the deal, even if it means the player would be a free agent next summer.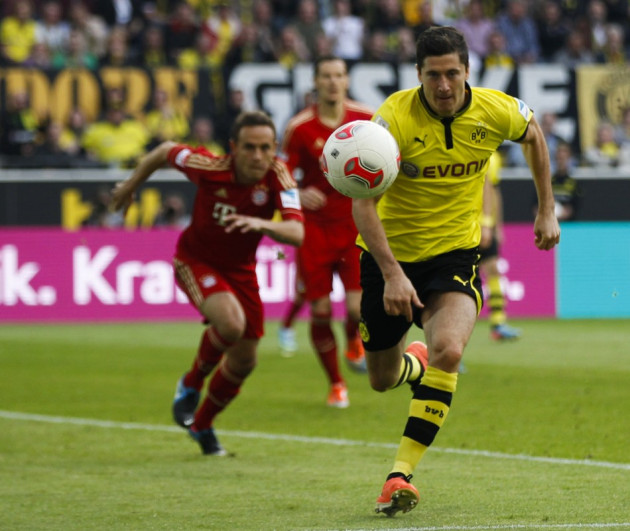 However, according to the Daily Mail, the German has now accepted defeat in his quest to keep Lewandowski at Dortmund and is prepared to accept any bid around £21m, provided it is formally lodged by next Wednesday.
Manchester United, Chelsea and Arsenal have all been linked with a summer move for Lewandowski's in recent weeks but it is understood that the player prefers to stay in Germany. The report claims Bayern are now close to snapping up the forward as club chairman Karl-Heinz Rummenigge is ready to meet Dortmund's asking price before the deadline.
Sammer: All-German Champions League Final an Extraordinary Achievement
Meanwhile, Bayern board member Matthias Sammer has stated he is looking forward to the much-hyped Champions League final between the Bavarians and Dortmund and hailed it as an extraordinary achievement.
"The countdown has been underway for a while. There's lots of talk, although there's not really much to talk about. Despite it all, it'll be decided on the field of play. I guess the verbal sparring beforehand is all part of it. I'm still finding it an extraordinary achievement to have two German teams in the final," Sammer said.
Bayern, who also have the German Cup final lined up, would celebrate their Bundeliaga win before the final league fixture at the Allianz Arena against Augsburg on Saturday.
"We're the champions, but we mustn't mentally close down when we celebrate. We ought to rename the championship party to be 'a togetherness party in preparation for two finals'. This togetherness, generating a feeling and a spirit in the knowledge we're champions and have two finals to contest, I think it's wonderful," the German added.