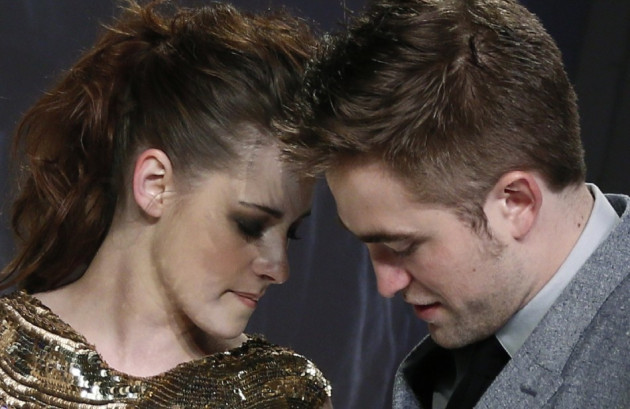 Twilight star Robert Pattinson is in for a celestial treat as girlfriend Kristen Stewart gears up for his 27th birthday on 13 May.
A close friend of Pattinson's Twilight co-star told Hollywood Life: "Kristen is super excited to totally spoil Rob on his birthday this Monday. She is getting his charts done - his astrological charts from a really cool numerologist.
"Kristen has a special day and night planned for Rob, which will include swimming, friends, music, and of course their dogs Bear and Bernie.
"She's not revealing too many details because she wants it to be a surprise for him," says the source. "She just wants to totally shower him with love and affection."
Recently, Rob bought Kristen a karaoke machine. "They both absolutely love karaoke. They used to go to bars whenever they could, but more often than not they'd get hassled by people.
"So Rob surprised Kristen with their own machine. It's top-of-the-range stuff with built in disco lights, a huge screen and even its own mini stage," a source told The Sun.
"Now they have karaoke parties at their home in the Los Feliz neighbourhood of Los Angeles with all their friends. They go on until the early hours - even after a night out they head back to Rob and Kristen's for a good old late-night sing-along."
For Kristen's 23rd birthday in April, Rob splashed out on a fountain pen worth $46,000 (£30,000).
'Kristen has always collected pens, and has a variety of stylish ones. Rob decided to go big for her birthday this year and brought her a limited edition white gold Tibaldi Bentley Crewe fountain pen," a source told The Daily Star.
"He had her name specially engraved on it with the year and wording: 'From R'. There are only 40 of these pens in the world, so it's a real collector's item."
That was the first gift among many for Stewart, an insider told OK! "There was the latest chain and bracelet set from Versace and a Hermès silk scarf.
"He also managed to get hold of an original vinyl copy of her favourite Van Morrison song, Madame George."
Rob saved the most romantic gift for last, when he offered Kristen a family heirloom: "Rob gave Kristen his grandmother's treasured pearl ring," a source close to the pair revealed.