Manchester City manager Roberto Mancini was left frustrated after further refereeing decisions went again his side during their win over Fulham.
The Premier League champions fell behind through Mladen Petric's penalty, after Pablo Zabaleta was adjudged to have fouled John Arne Riise.
While Sergio Aguero and Edin Dzeko's goals were enough to ensure victory for City as they kept the gap to leader Chelsea to four points, but Mancini was left fuming.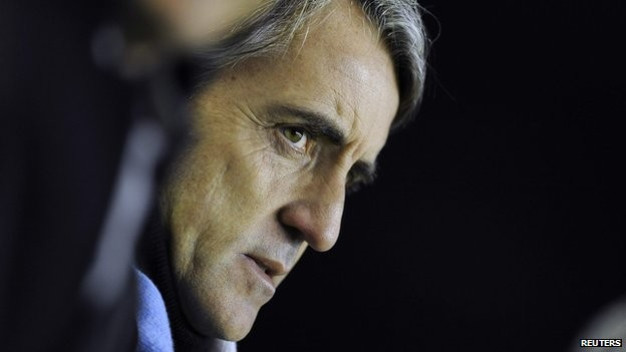 "It was out of the box and it was no foul, no penalty," Mancini said.
"There were a lot of mistakes in the past four games. We accept this, but we're not happy. We can do nothing, only continue to play.
"Against Fulham here it is always difficult. They are a good team, have good players, a good manager. This pitch is always tough for us but the problem is we were 1-0 down and I don't know why because the penalty was not a penalty."
"Sometimes it is a penalty but the referee is there to take a decision. Sometimes he does well, sometimes he can do bad."
Despite gaining the crucial win, Mancini says the decision to award Fulham their first half penalty is the latest in a string of major decisions that have gone against his side.
"If we go to watch all our last three games, against Stoke it was handball. I don't know why the referee that was behind didn't give it. Against Arsenal there was one penalty [we should have been awarded].
"We were 1-0 down and Fulham didn't shoot on goal for the first 20 minutes.
"That was a problem but I am happy because the players continued to play well, kept calm and we had a lot of chances."
With Manchester United losing at home to Tottenham Hotspur, City have gone level on points with their near neighbours having, after a poor start to the season, looked like losing ground on their title rivals.
Mancini says victory at Fulham was crucial in City staying in touch, even at this early stage of the campaign
"It's very important to stay close to United and Chelsea - especially in the difficult moment we are in but the season is very long," Mancini added.
"I think that today we were very close to being at the same level as we played last season.
"The difficulty we have is that 12 people started their pre-season 10 days before everyone else. I think that after the international break we will be OK."