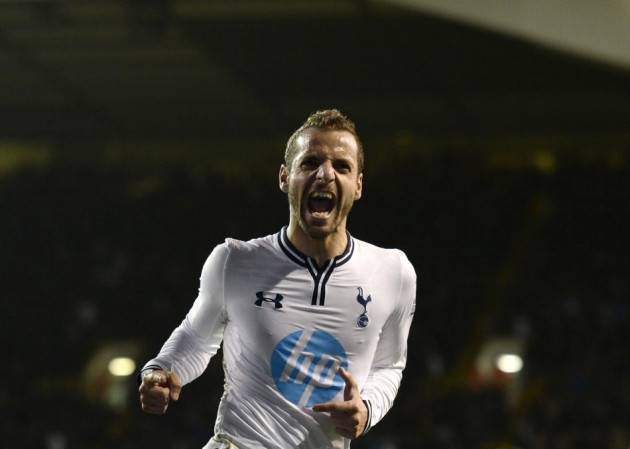 Roberto Soldado has revealed that Tottenham's target is to qualify for the Champions League next season and has insisted that they do not even think about finishing outside the top four.
Spurs have had a difficult start to the season and are currently ninth in the Premier League table. Some pundits have already suggested that manager Andre Villas-Boas is under intense pressure after losing 6-0 against Manchester City and drawing 2-2 with Manchester United.
Soldado hopes to turn the situation around as soon as possible as he thinks Tottenham must secure a place in the Champions League. In an interview with Four Four Two, he even admitted that not achieving this target would be a huge disappointment for the club.
"Failure is a word that nobody likes, and the possibility of not finishing in the top four is something that hasn't even entered in our heads. That's our main objective.
"But we have to be ambitious and not give ourselves a ceiling to what we want to achieve. We've got a very dynamic squad that's maybe even more competitive that last season, despite losing Gareth Bale," Soldado told Four Four Two.
Soldado is also far from his peak form and he has struggled to make the impact that was expected when Tottenham paid £26m to Valencia last summer to secure his services. He has scored just four goals in domestic competition, with only one from open play as the other three were converted from the penalty spot.
"I don't feel like I am 100 per cent just yet. I'm not a conformist who settles for performances that are only ok. I can do better, so I must work hard in training to improve," he added.
The 28 years old scored 24 goals in La Liga last season. Now, he claims that he is still adapting to the Premier League style and he hopes to score more goals in the near future.
"Every game is tough, especially away from home. You have to concentrate 100 per cent regardless of the position the opposition occupy in the table. That's with I'm struggling with most -the mental rhythm of having to be at maximum concentration. That's not always the case in La Liga."