Robin Thicke, 37, and Pharrell Williams, 41, have been accused of stealing music and now they are reportedly bringing none other than Ludwig Van Beethoven into their defence argument.
In a bid to prove their Blurred Lines hit is not a rip-off of Marvin Gaye's Got to Give it Up, the musical duo just filed new court documents outlining several differences between notes in the songs.
According to TMZ, in the legal documents, they admit Blurred Lines starts with repeated notes, like Marvin's song - but also like classical composer Beethoven's famous 5th Symphony.
Their main argument is that musicians have been repeating melodies and referencing notes for several centuries, which has always been a part of the musical process.
Additionally, they point out that Blurred Lines is more similar to Allen Toussaint's Working In A Coal Mine which was written in the 1960s than Gaye's 1977's classic Give It Up.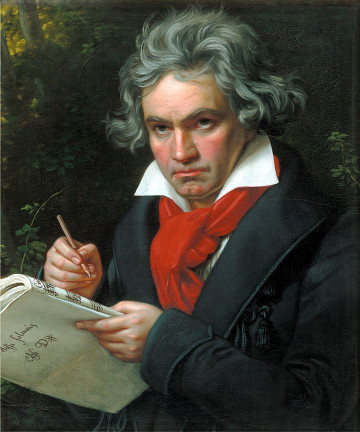 Earlier this month, Thicke also courted controversy when it was revealed that he lied about writ ting the song.
He originally told GQ Magazine that he and Pharrell 'literally wrote the song in about a half hour and recorded it'.
But speaking under oath in the deposition, he surprised fans by admitting that he wasn't involved in the songwriting at all, and was 'high on Vicodin and alcohol' when Pharrell was writing it in the studio.
"I was jealous and I wanted some of the credit... I tried to take credit for it later because [Williams] wrote the whole thing pretty much by himself and I was envious of that", he said.
In an attempt to explain the lies, he said he made up the story as he thought it would help sell more records.
In what appears to be a string of bad luck for Thicke, Blurred Lines has also come under fire for its misogynistic lyrics and risqué video content.