Rockers Pearl Jam spoke out about the dangers of climate change as they were inducted into the Rock and Roll Hall of Fame 2017.
The Corduroy hit-makers were among the six acts recognised last night (7 April) by the legendary museum during a concert at the Barclays Center in Brooklyn, New York.
Infamously outspoken frontman Eddie Vedder, 52, told the packed-out venue: "We cannot be the generation that history will look back upon and wonder, why didn't they do everything humanly possible to solve this biggest crisis of our time?"
Pearl Jam also invited all five drummers from the band's career for the event and performed for the first time in 25 years with Dave Krusen. The 51-year-old was the band's first drummer, who left the band due to a drinking problem before their debut album, Ten, was released in 1991.
Ten was not an immediate success, only charting in 1992. In the 25 years since its release, it has been listed as one of the greatest rock albums of all time by Rolling Stone, Q and NME music magazines.
Pearl Jam were not the only inductees who seized upon the platform as a call to arms at the bash – which is due to be aired on TV later this month.
Joan Baez – who was one of the leading protest singers in the 1960s – acknowledged that while many young people were not familiar with her music, she was proud to have devoted her life to speaking "truth to power".
In the past, the 76-year-old has campaigned against everything from the Vietnam War to fighting for civil rights in the US.
Reflecting on the current state of the world, she said: "Now in the new political cultural reality in which we find ourselves, there is much work to be done, where empathy is failing and sharing has been usurped by greed and lust for power.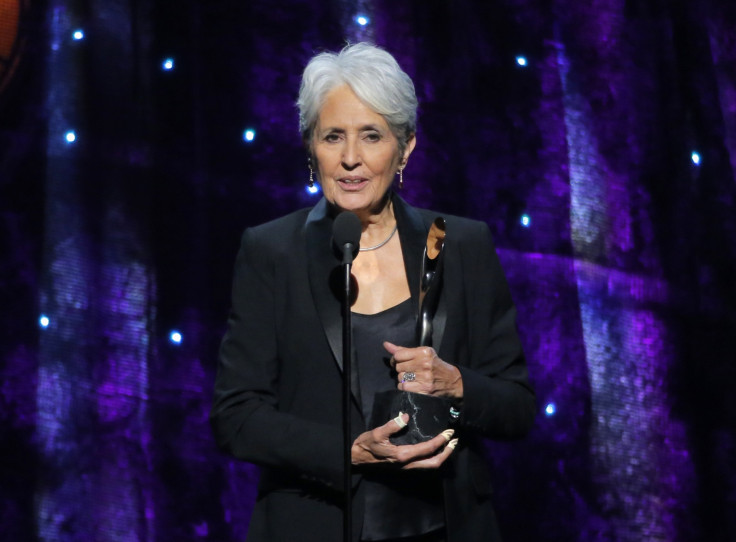 "Let us build a bridge, a great bridge, a beautiful bridge to once again welcome the tired and the poor," Baez said, juxtaposing lines from Trump and the immigrant-welcoming poem on the Statue of Liberty.
"I want my granddaughter to know I fought against an evil tide and had the masses by my side," she added as she launched into a performance of folk star Woodie Guthrie's Deportees, which is an ode to Mexican Laborers.
It took 900 industry experts, critics and musicians to whittle down the six finalists to take their place within the hallowed walls of the US museum which is located in Cleveland, Ohio.
Other acts inducted were the late rapper Tupac Shakur, and the bands Journey, Yes, and Electric Light Orchestra (ELO).