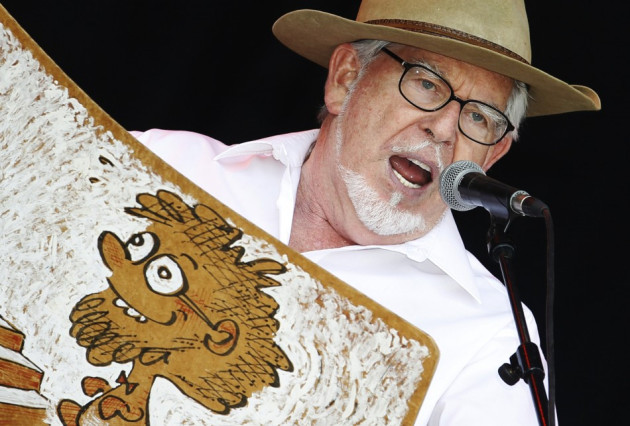 Rolf Harris has been arrested on suspicion of sexual offences as part of the Jimmy Savile police investigation.
Harris, 83, was arrested on 28 March under the strand of the investigation termed 'others', meaning he has not been directly connected to Savile.
A Met police statement said: "An 82 year old man from Berkshire was today, 28 March, arrested by officers on Operation Yewtree on suspicion of sexual offences."
Harris has been bailed until a date in May and it is believed he strongly denies the allegations against him, although he is yet to release an official statement.
So far 12 people have been arrested in relation to the investigation.
One man, David Smith, has been charged with a number of offences, including indecent assault, gross indecency and buggery.
Harris was named as a suspect in the Operation Yewtree investigation in November when he was questioned by police but not arrested.
Breaking : Rolf Harris currently being interviewed under caution at police station as part of #Savile other #sexual offences

— Mark Williams-Thomas (@mwilliamsthomas) November 29, 2012
Mark Williams-Thomas, who made the original documentary on Jimmy Savile, tweeted: "Breaking: Rolf Harris currently being interviewed under caution at police station as part of Savile other sexual offences."
When asked if he was sure by another user, he said: "Would not have tweeted if not certain."
After being questioned in March, a friend of the Australian artist told the Mirror: "This is destroying him. He is in excruciating agony and at his wits' end.
"He cannot understand why he has been arrested. He is a private man and is tormented by what's happened. He is shocked and distressed and cannot understand why he's been arrested.
"He's trying to get on with his life but finding it really, really quite impossible to think straight. My friend is a lovely, loyal devoted husband and father and I can't imagine him ever doing anything to tarnish his rightfully earned image."
Harris moved from Australia to the UK in 1952 where he began his career in TV drawing animations. He then began his music career and had success with the hits Tie Me Kangaroo Down, Sport and Two Little Boys, which was the Christmas number one in 1969. In the 1990s he presented the long-running show Animal Hospital.
He was appointed Member of the Order of the British Empire in 1968 and was awarded an OBE in 1977. In 2006, Harris painted the official portrait of Queen Elizabeth II for her 80th birthday.