Romania will put corruption laws to popular vote in referendum after 13 days of protests
A decree condoning corrupt officials prompted thousands of people to demand the government's resignations.
The Romanian parliament voted unanimously to initiate a referendum on corruption laws, the Romanian News Agency Agerpress reported on 13 February.
The referendum was first suggested by the country's President Klaus Iohannis, who openly supported the massive anti-government protests sparked by a proposed decree that have would abolished jail terms in cases of abuse of power that incurred costs of less than €44,000 (£37,000).
Iohannis proposed in January an advisory referendum on the measures to fight corruption and promote integrity among public officials.
"There's clearly a wide interest to amending the criminal code... If that's the case I will subject this topic to the public debate and the popular vote," Iohannis said at the time, as reported by Reuters. The timeline for the referendum remains unclear.
The president, who ran for the position in 2014 on an anti-corruption ticket, told the Romanian parliament on 8 February that the country needed a transparent government that governed 'by the late of day' not in the darkness of night. "The prosperity of the Romanian people was not your first priority [...]. That's why Romanians are indignant and revolted," he said.
On Sunday (13 February) more than 70,000 people across the country gathered in protest against the Social-Democrat government led by Sorin Grindeanu. Around 50,000 people participated at a rally in the capital, outside the government's offices, demanding the prime minister's resignations.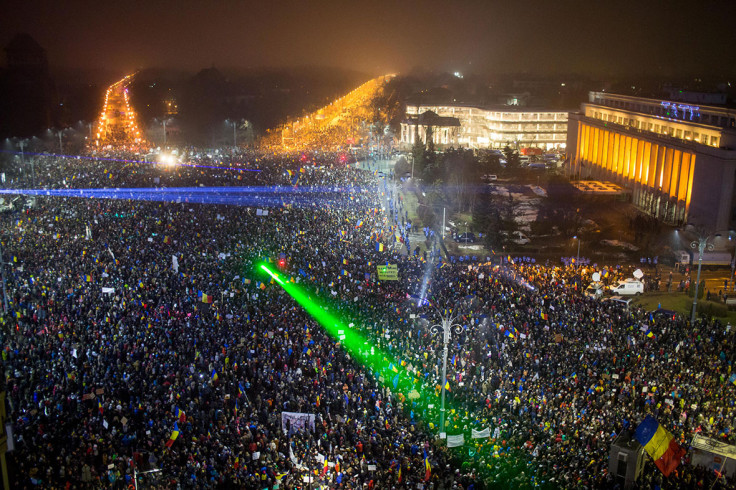 The protests, which are thought to be the country's largest since the ousting and summary execution of communist dictator Nicolae Ceausescu in 1989, have been held for 13 consecutive days despite the resignation of Justice Minister Florin Iordache on 9 February.
The Grindeanu government was elected in December. The previous Social-Democrat government was forced to resign after thousands of people took to the street after it emerged that the Bucharest Collectiv nightclub, that burned to the ground in October 2015 killing 64 people and injuring 147, was given a license without permission from the fire department.
© Copyright IBTimes 2023. All rights reserved.