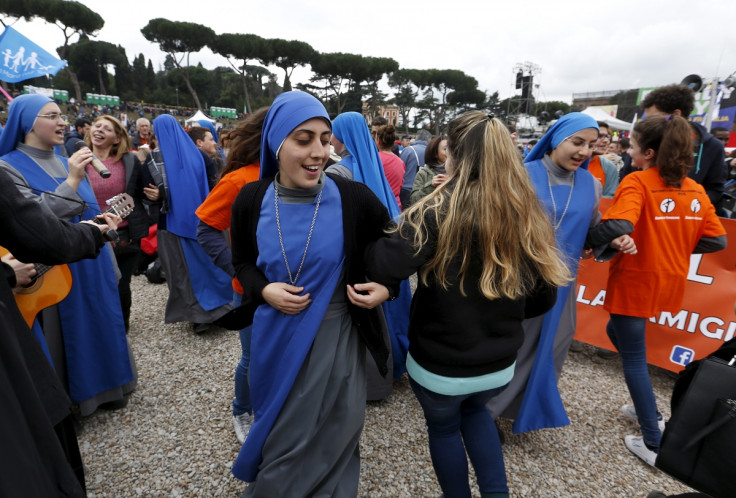 Thousands of Italians, including Roman Catholic nuns and priests, danced the conga in Rome's Circus Maximus in protest at legislation for same-sex unions and allowing homosexuals to adopt. Trains and buses brought in demonstrators from around Italy on Saturday, 30 January, to take part in the mass rally at ancient Rome's chariot racing stadium.
Saturday's protest was billed by supporters as a "Family Day" in the name of traditional marriage. It was backed by Cardinal Angelo Bagnasco, president of the Italian Bishops' Conference, The Tablet reported.
An estimated 500,00 people occupied Rome's Circus Maximus, although organisers claim as many as two million supporters attended the rally, although this figure was not officially verified.
"We want the whole law to be withdrawn, no ifs and no buts," said Simone Pillon, one of the organisers. He was particularly incensed at a clause in the law which would let LGBT people to adopt the biological children of their partner, according to a Reuters report.
Commentators say this would encourage surrogate motherhood, which is outlawed in Italy. "We cannot let children pay for the desires or caprices of adults. Children need to have a father and a mother," said Pillon.
Several government officials, including the New Centre Right party (NCD), took part in Saturday's demonstration. "I fully adhere to the aims of this gathering," Interior Minister Angelino Alfano, head of the NCD, wrote on Twitter.
The demonstration came a week after thousands of people took to the streets of Italy to demand that the "civil union" bill, which relates to both homosexual and heterosexual couples, be approved.
Italy is the only remaining country in Western Europe that has not offered rights or recognition to same-sex couples, and has been censured by the European Court of Justice for failing to act.
Prime Minister Matteo Renzi promised to pass a bill that would legalise same-sex unions by the end of 2015, but has met with stronger opposition over this from within coalition ranks than any of his other reform plans.
"Italy can't remain the tail-end in Europe in the field of civil and human rights," Monica Cirinna, the bill's author, told NBC News . "We can't go to Europe to complain about economic problems if we carry such a heavy burden as the failure to recognize same-sex couples."