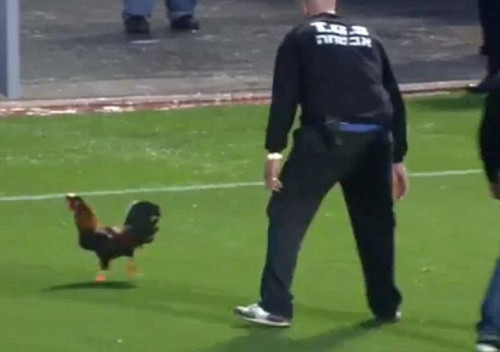 An Israeli league match was delayed for minutes after fans of Bnei Yehuda released a rooster onto the pitch in their fixture against Hapoel Tel Aviv.
The nimble chicken would give Lionel Messi a run for his money, sidestepping numerous attempts to thwart his run by Hapoel's bumbling security who could only claim foul play.
Two members of Hapoel's security slipped as they tried to catch the rooster, resulting in laughter in the stands and a comical video which can be viewed below.
The clucking intruder had orange ribbons tied to his ankles, which represent the club colours of Bnei Yehuda.
When the game was finally restarted it finished 2-2 with Hapoel coming from 2-0 down to snatch a point to assist in the Israeli league pecking order.
A similar incident in recent years came during the Lancashire derby between Blackburn Rovers and Burnley. A chicken was released on to the pitch by Blackburn fans during a 1-1 draw with their local rivals.
In other animal related pitch-invasions, two dogs ran onto the field during a Turkish league game between Galatasaray and Aalan, while a cat invaded the Anfield pitch during Liverpool's game with Tottenham in 2012.