Rosie Huntington-Whiteley announced she is expecting her first child on Thursday (9 February) evening. The actress, 29, shared the happy news with fans, posting a photo of herself on Instagram in a tropical setting wearing a bikini as she showed off her growing baby bump.
The image, which was taken by her fiance Jason Statham, 50, was captioned: "Very happy to share that Jason and I are expecting!! Lots of love Rosie x ❤ Photo by @jasonstatham"
The Victoria's Secret star had been the focus of baby rumours for several months after she was spotted covering up her stomach in public.
Earlier this year she posted a shot of herself dressed in a baggy poncho with the post: "Here's to fresh starts and exciting prospects for the new year. Wishing everyone a happy and healthy 2017."
According to Mail Online the image, which was shared with her 6.7 million followers on Instagram, prompted sources close to the Mad Max star to comment that she is "indeed pregnant and ... has been calling in clothes to suit her changing figure."
The actress, who has starred in films such as Transformers: Dark of the Moon and Mad Max: Fury Road, has previously spoken of her dream of starting a family of her own.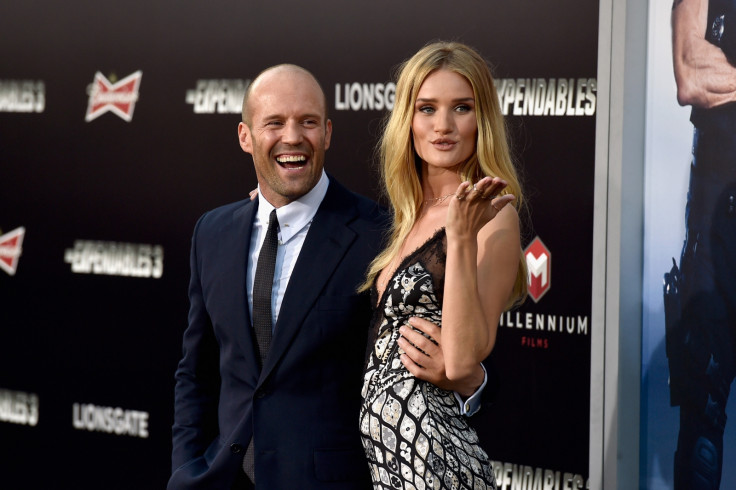 Speaking to The EDIT in 2015, she said: "Having a family is something I think about for sure, and whether I'd live here in America or in England. But it's not always as simple as that.
"I have no idea what will happen, but it'll be interesting to find out, right? And nothing will be perfect, I'm sure."
Rosie, who has been in a relationship with Statham since 2010, previously told Elle UK that she anticipated that motherhood would take priority over her professional aspirations.
"I always see myself working, but definitely being a mum will be a big part of me," she said. "I think there is naturally a point where you think, 'I don't care about myself as number one any more. I want to care about other things.'"
It's the latest celebrity pregnancy announcement after Beyonce broke the internet when she revealed she is expecting twins.
Fans turned to social media to post messages of congratulations to Rosie and Jason.