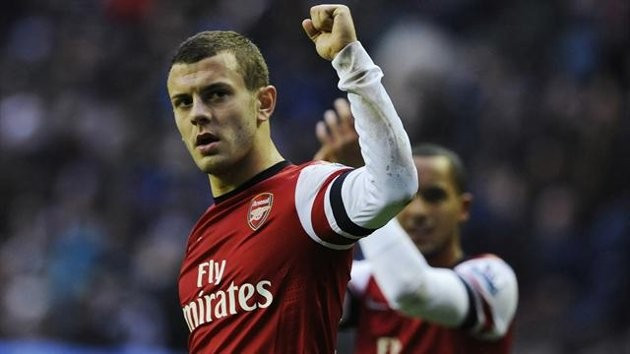 England manager Roy Hodgson has played down the influence of Arsenal starlet Jack Wilshere despite his impressive performances following his return from 17 months on the sidelines.
Hodgson's side take on five-time World Cup winners Brazil in a friendly at Wembley on Wednesday night, looking to show promise ahead of the 2014 World Cup.
Wilshere has produced a series of encouraging performances since his return to the Arsenal starting eleven, with Arsene Wenger keen to heed caution over the demands placed on the 21 year old's young shoulders.
Though heralded as the man to lead England's next generation, Hodgson has dampened expectations of Wilshere.
"Jack is a player who carries a huge weight of responsibility at a young age," the England manager told Sky Sports.
"I hope everyone is going to understand he is still a young man, he is 21 and still capable of playing in the under-21s, not that he will.
"I'm anxious in some ways and, while delighted with his form and the way he plays and sharing everyone's enthusiasm about his quality, I want to play it down a bit too.
"I wouldn't like to see him have to take a backward step because all of a sudden his name is being put forward as the saviour of the English football team. We've got other players too.
"I'm hoping Jack's contribution, which will be a big contribution, will be matched by big contributions by the other players like Rooney, Gerrard, Lampard, Cole, Johnson etc."
Meanwhile, Ashley Cole will celebrate reaching his 100th international cap against Luiz Felip Scolari's side.
Despite Cole having earned a somewhat controversial reputation in English football, Hodgson believes he'll get the reception he deserves.
"I deal with Ashley the footballer, the man I know on the football field, who I know as an England player, who is trying to help me win matches," Hodgson explained.
"I see no reason for England fans not giving him the credit and reception and the admiration he deserves playing his 100th game.
"If you are an England fan and don't respect or love someone for doing that, then that's your problem and not his."