Royal Canada tour: Kate Middleton showcases Canadian design on visit to Corcross
The Duchess has showcased a host of new and established designers throughout her Royal tour of Canada
The official Royal tour of Canada is underway with Prince William and Kate Middleton embarking on a visit to British Columbia with their children Princess Charlotte and Prince George from 24 September to 1 October.
Their tour includes visiting the province's most incredible sights, with trips to the Great Bear Rainforest and Montana Mountain on the itinerary – and what more could any Canadian jaunt behold than being hosted by Prime Minister Justin Trudeau and his wife Sophie Grégoire Trudeau. However, while focus lies heavy upon the areas and people the royals will be meeting, there is undoubtedly a great deal of attention placed on the wardrobe of the tour, in particular that of the Duchess of Cambridge.
Known to focus on a mix of British stalwarts as well as showcasing designers of the host country, Middleton's daily outfits are selected very carefully and can lead to the making of a unknown designer if they are given the limelight during a royal tour.
Scroll down to keep updated on every outfit Kate wears during the Royal tour of Canada.
September 28th: Kate Middleton wrapped up fully on the royal visit to Carcross which has only 300 residents, changing from her vibrant Carolina Herrera coat and into a warm ribbed wool wrap cardigan by Canadian designer Sentaler. The brand that specialise in woollen designs are also favoured by Sophie Gregoire-Trudeau - wife of Canadian Prime Minister Justin Trudeau.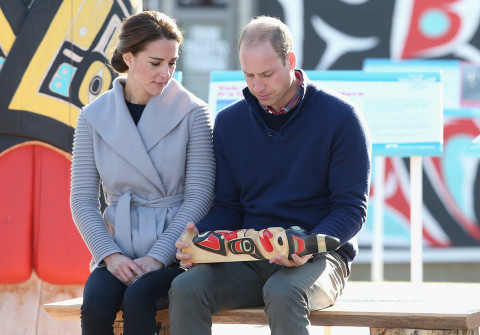 September 28th: The Royal couple visited the beautiful setting of Montana Mountain where the Duchess stayed warm in a pair of skinny jeans and brown suede cowboy boots that she paired with her wrap cardigan by Sentaler.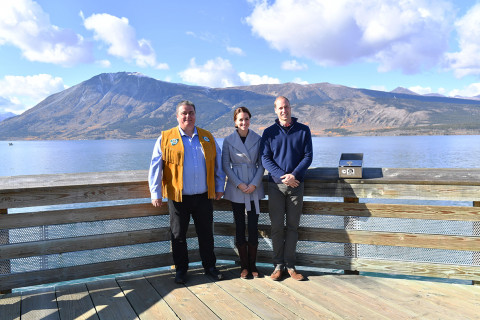 September 28th: William and Kate were saluted by members of the Canadian Mounted Police (Mountys) during their visit to Whitehorse.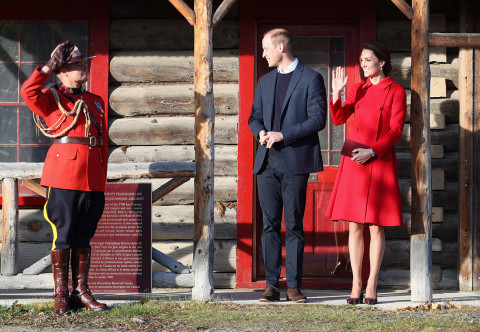 September 28th: The Duchess returned to red as she covered up for her visit to the Macbride Museum of Yukon history in a scarlet Carolina Herrera coat. The visit was also done by the Queen and Prince Philip back in 1959 and each couple were greeted by hundreds of well wishers who were part of a street party held in their honour.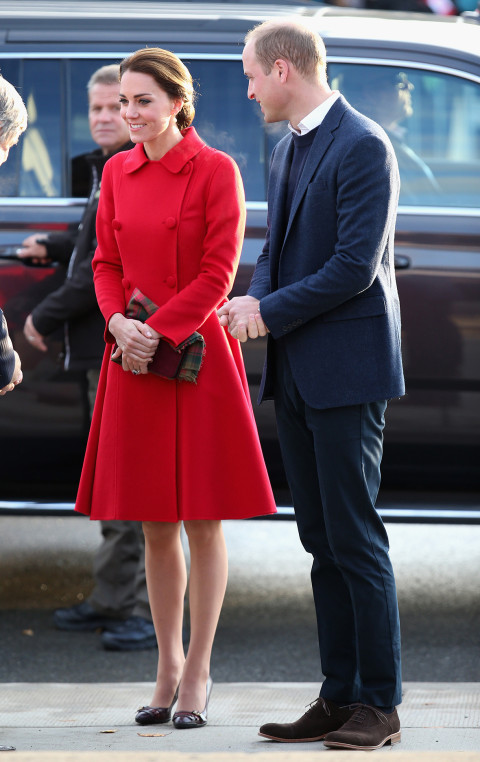 September 27th: The Duchess covered up as she arrived in the colder climates of Whitehorse in the Yukon territory. Keeping her Dolce and Gabbana dress on, Kate covered up with a similar forest green wool-felt coat by Hobbs as well as holding a Maple leaf tartan scarf.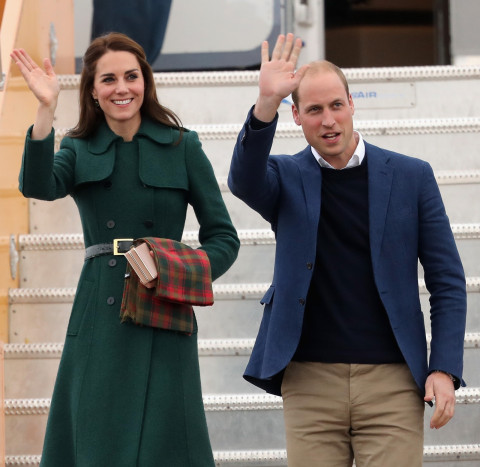 September 27th: Opting for an elegant half-up hairstyle, the Duchess held onto to her style even in the dropping temperatures of the Northern territories and did not stray from her nude stilettos and bare legs.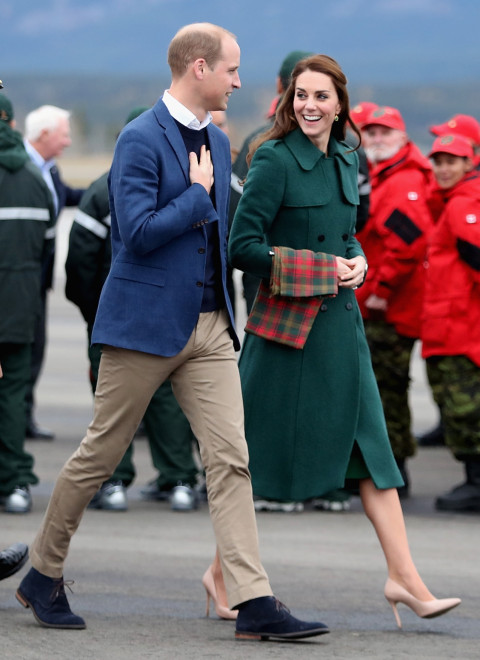 September 27th: For her latest outing, the Duchess left behind the patriotic reds and blues and opted for an elegant 1940's style dress from Italian designers Dolce and Gabbana. The £2000 custom dress was paired with Kate's favourite LK Bennett pumps as she joined Prince William in the western Canadian city of Kelowna.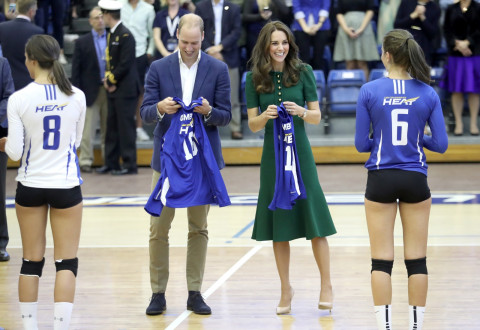 September 27th: The couple were the first royals to visit Kelowna since Charles and Diana arrived 30 years before and received a rapturous applause as they met with students at the Okanagan campus of the University of British Columbia before heading off on a whisky tasting tour.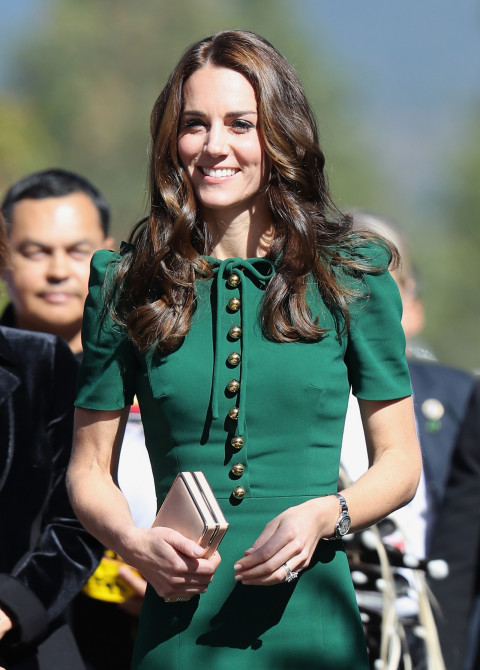 September 26th: For the evening events, Duchess Kate was a vision in red as she arrived at the reception at Government House in Victoria last night, Selecting a new British designer to showcase, Kate opted for a red evening dress by British design duo, Preen by Thornton Bregazzi with red suede pumps and a scarlet frame clutch. The dress which is currently available for £1000 is now sold out following last night's dinner.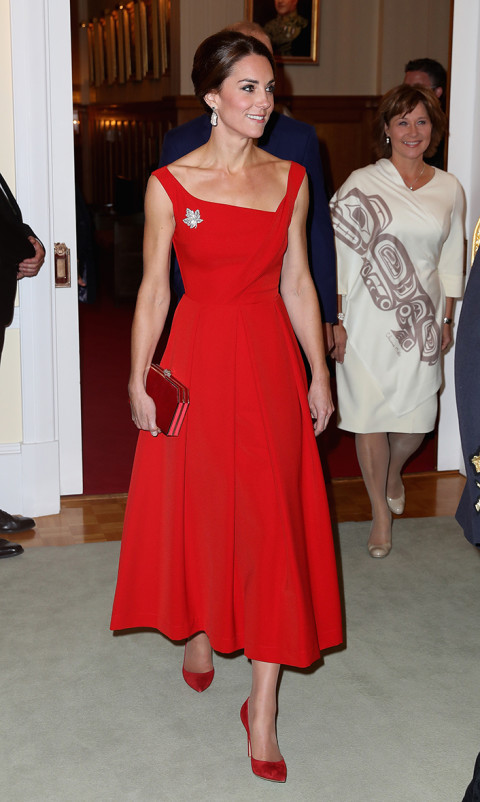 September 26th: Naturally the Duchess accessorised her vibrant dress with the iconic diamond maple leaf brooch, first worn by the Queen mother in 1939 on a royal tour of Canada.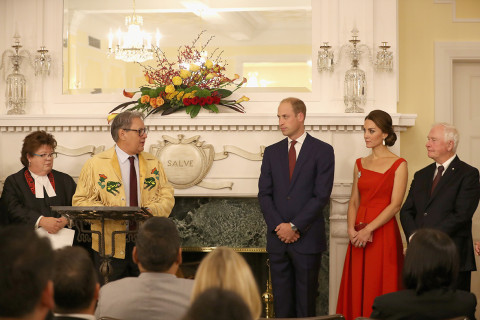 September 26th: Under the Holland & Holland jacket, Kate wrapped up with a navy blue crew neck sweater and Topshop gingham shirt underneath. Adding a touch of Canadian style, the Duchess accessorised with a pair of £1200 18kt gold earrings by Canadian-born, London based jeweller Pippa Small.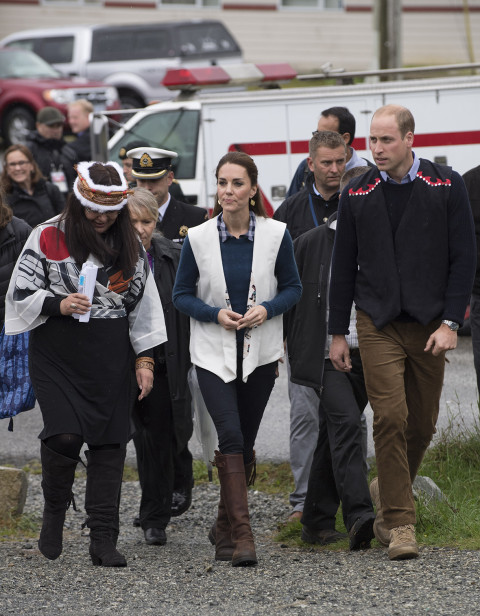 September 26th: A classic British heritage brand, Holland & Holland was founded in 1835 initially specialising in outdoor pursuits like shooting but has recently had a revamp by model Stella Tennent and former fashion editor Isabella Cawdor, the Duchess paired her light jacket with her favourite Penelope Chilvers boots that have made many appearances on royal tours.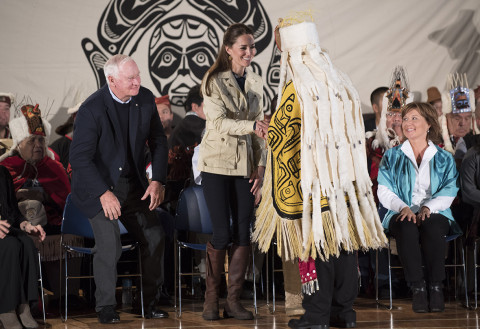 September 26th: The Duchess wrapped up for her trip to Bella Bella with Prince William today with a great mix of luxury and high street brands. The Duchess wore a pair of Zara skinny jeans with a £600 belted safari jacket by Holland &Holland.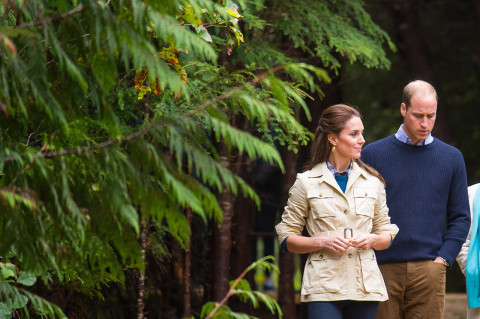 September 25th: For the Royals's first official day of engagements, Kate debuted a striking bespoke embroidered dress by Alexander McQueen based on designs from the brand's Resort '17 collection as she visited the Canadian Coast Guard and Vancouver First Responders Event at Kitsilano Coast Guard Station in Vancouver, Canada.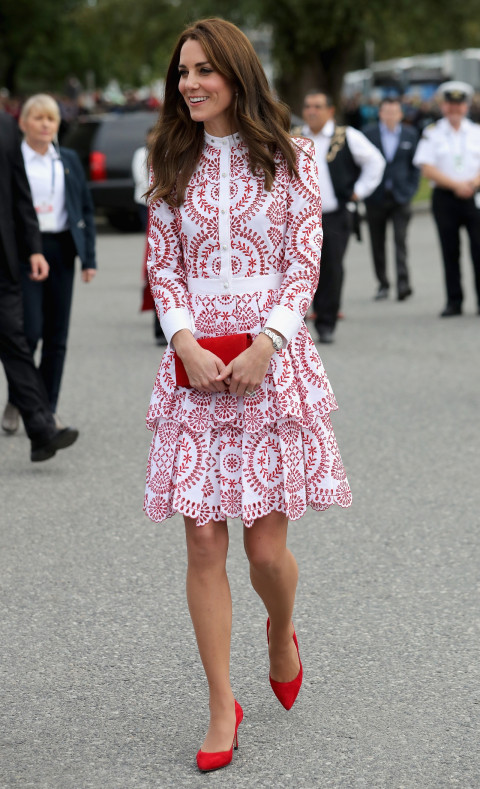 September 25th: The Duchess teamed up the elegant but bold dress with statement court shoes and clutch by Italian brand Miu Miu.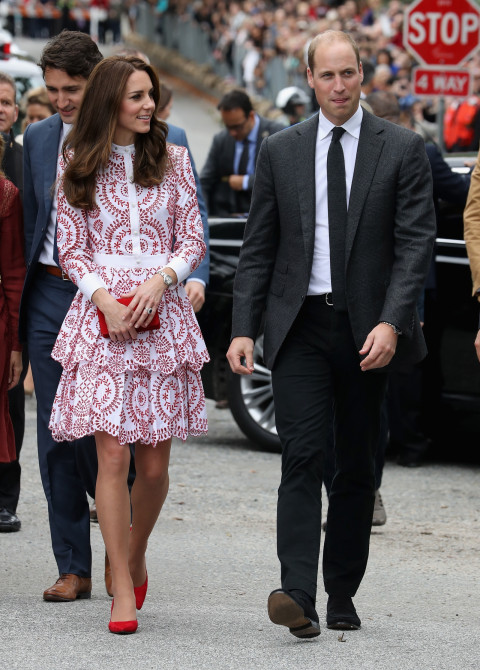 September 24th: Kate Middleton sat for the official welcome ceremony showing off the sparkling maple leaf diamond brooch given to her by the Queen to wear for the visit.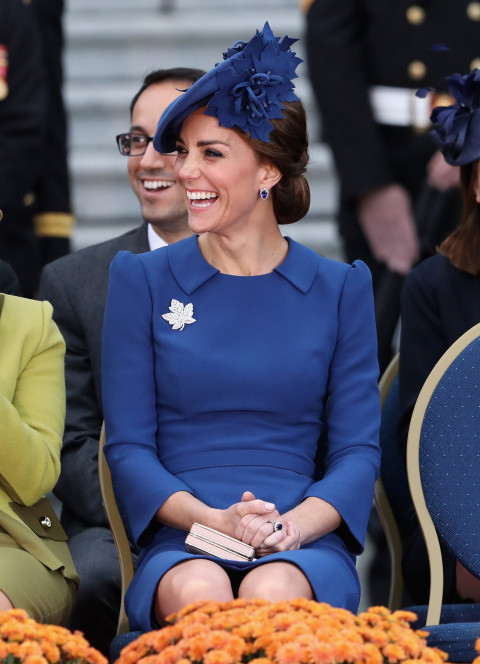 September 24th, arriving in Canada: The Duchess chose British classic Jenny Packham for her first look, wearing a neat midi-length royal blue dress by the UK designer as well as a wool felt hat by UK brand Locke and Co.