The chief executive of Royal Dutch Shell says he embarked on a "personal journey" before making the controversial decision to start drilling for oil in the Arctic.
Ben van Beurden said he was aware of the risks of drilling in a "fragile" environment, but claimed the reservoir Shell was exploring would be "relatively easy" from a technical perspective.
Shell's safety vessel Fennica arrived in the Chukchi Sea off the coast of Alaska earlier this week, clearing the way for the Anglo-Dutch firm to begin drilling deep enough to hit oil.
But former BP boss Lord Browne warned the search for hydrocarbons in the frigid seas would prove highly expensive and could end up harming the long-term reputation of the company.
Shell has already poured some $7bn (£4.5bn, €6.3bn) into the controversial project, which has come under severe criticism from environmental groups.
Experts say the Arctic contains 13% of the world's undiscovered oil reserves - around 90 billion barrels.
'Manageable risk'
"The drilling in the Arctic comes with an increased risk profile and that is because the environment is much more fragile than other environments," Van Beurden told the BBC on 12 August.
"It is also much more unforgiving in terms of climate, weather, etc. It is also, by the way, the particular reservoir that we are going to explore in, one that is – from a technical perspective – relatively easy.
"So you have to make a judgment: 'Can I do this in a responsible way?'.
"That is a bit of a personal journey that I had to go through as well and many others associated with the project – we believe that we can responsibly explore for hydrocarbons in Alaska.
"There is no such thing as a risk-free world, so I cannot eliminate the risk altogether, but I can bring back to something that I think is appropriate and manageable."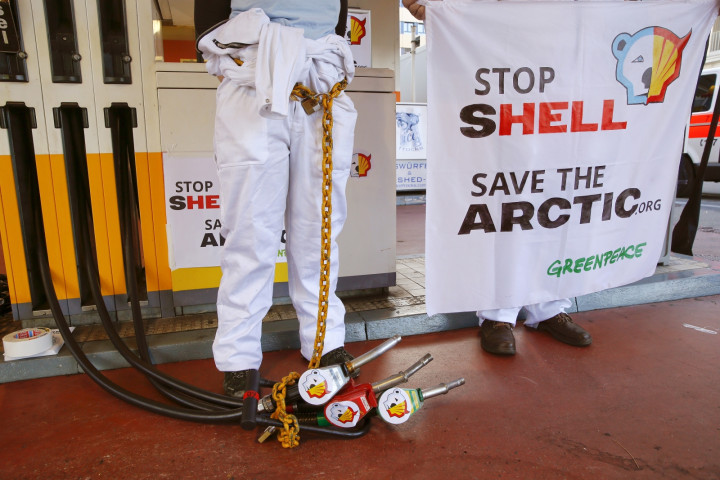 But Browne, who is chairman of Russian-backed oil and gas firm L1 Energy, cautioned that the "very expensive" operation could end up harming Shell in the long run.
He told the BBC: "I'm not chairman of Shell. But I think [Arctic drilling] is very expensive and I would always go for hydrocarbons which have less cost and effort involved.
"I've never been a great supporter of right-on-the-margin development, partly because of the cost.
"So I think you've got to be careful what you do and cost includes your long-term reputation."