Oil giant Royal Dutch Shell has agreed to pay a Nigerian fishing community £55m as compensation for its role in the worst oil spill in Nigeria's history, according to both parties.
The Nigerian arm of the Anglo-Dutch firm -- Shell Petroleum Company of Nigeria (SPDC) -- will make the payout to 15,600 fishermen in the southern town of Bodo.
Each individual will receive around £2,200, which is equivalent to three years' income on Nigerian minimum wage, reports said.
Shell said that a major remediation operation will take place in the coming months, following an initial clean-up phase, but did not reveal how long this will take, nor how much it will cost.
The settlement ends a three-year legal battle. While armed gangs tapping pipelines have often been blamed for leaks in the region, Shell has accepted that the Bodo spills were caused by corrosion, Reuters reported.
Of the £55m ($83.2m, €70m), £35m will be shared evenly between the 15,600 Bodo fishermen, while the remainder has been set aside in a trust fund for projects such as health clinics and schools, according to Martyn Day, a senior partner at Leigh Day, the British law firm that represented the community.
Day said: "It's very unusual to have thousands benefit. The money will go directly to their bank accounts and this will hopefully be a model for future claims."
Chief Sylvester Kogbara, head of the Bodo Council of Chiefs and Elders, said that he hoped "Shell will take their host communities seriously now."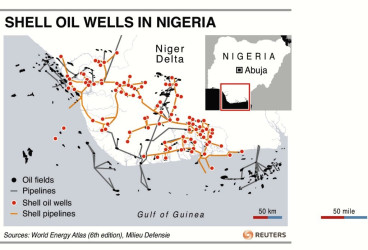 A UN Environment Programme (UNEP) report has suggested it could take up to 30 years to fully rehabilitate Bodo and the surrounding region, Ogoniland, where villagers have been in conflict with the oil major for decades.
Two serious oil spills occurred in Bodo in 2008, caused by operation failures on the Bomu-Bonny pipeline. The spills destroyed thousands of acres of mangroves and the fish populations that sustained the people of Bodo in the Niger Delta.
Claimants have said that the spills resulted in the leakage of 500,000 barrels of oil. Shell initially estimated the volume at about 4,000 barrels but later accepted that the total may have been higher, but it did not provide a final figure.