An oil spill in Bengal's unique Sundarbans mangrove forest is threatening the world's greatest population of tigers.
A tanker carrying more than 350,000 litres of oil sank in the Shela river after colliding with another vessel.
The incident occurred near the UNESCO's World Heritage Site Sundarbans forest - of which 60% is in Bangladesh and the rest in India - home to the world's largest tiger reserve.
More than 400 Bengal tigers - declared an endangered species by the International Union for Conservation of Nature (IUCN) in 2010 - are believed to live in the area.
Only 3,000 tigers are left in the wild, down from over 100,000 at the beginning of the 20th century.The remaining global population is under severe pressure from poaching and loss of natural habitat.
"The oil tanker, Southern Star 7, has been salvaged. A rescue vessel pulled it out from the river and towed it to a nearby shoal," Amir Hossain, chief forest official of the Sundarbans, was quoted by AP as saying.
"This catastrophe is unprecedented in the Sundarbans and we don't know how to tackle this."
He added that the world's largest mangrove forest, which is in the Suburban region, is also at risk.
"The oil spill has already blackened the shoreline (and is) threatening trees, plankton, vast populations of small fishes and dolphins."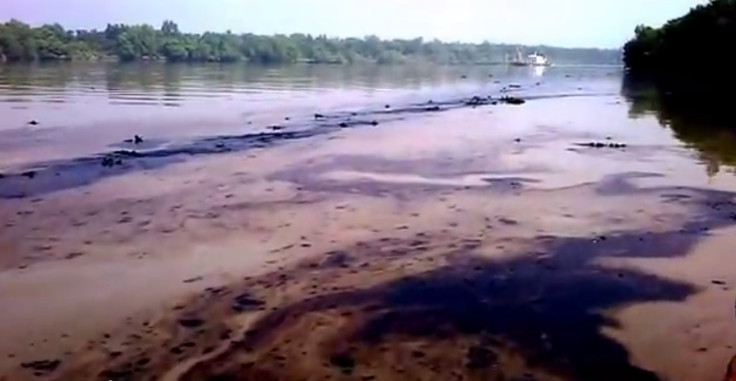 Rubayat Mansur, Bangladesh head of the New York-based Wildlife Conservation Society, said:"I visited the sunken trawler this morning. Only few hundred litres of oil remain inside, so almost all the oil has spilled into the Sundarbans."
He added that oil dispersants were "not appropriate for the mangrove ecosystem" and urged local villagers to help collect the oil from nets that have been placed in the river to contain its spread.
Rare Irrawaddy and Ganges dolphins are also threatened by the spill.
Tapan Kumar Dey, a senior wildlife conservation official, said that though wildlife species are at a high risk due to the oil spill, no deaths of any animals had been reported so far.
"We have spotted dolphins coming out of the water for air and going down again in some places ... crocodiles' movement in the affected areas has been less after the disaster and we are trying to determine actually what happened to them," Dey said.