The Duke and Duchess of Cambridge have clearly been missing their children Prince George and Princess Charlotte, as they continue their first royal tour to India and Bhutan. The couple have been forced to leave their children at home due to their hectic schedule which includes 22 engagements in just seven days.
And after four days away, Kate admitted that she was 'terribly missing' the children but revealed that Prince George was 'too naughty' to bring on the trip as he 'would be running all over the place'.
It probably explains why the couple found themselves so captivated by another cheeky toddler who they watched dancing at a fireside festival during a visit to a nearby local community in Pan Bari Villag, beginning the third leg of their India visit at a Bihu festival in the Kaziranga National Park in Assam this evening.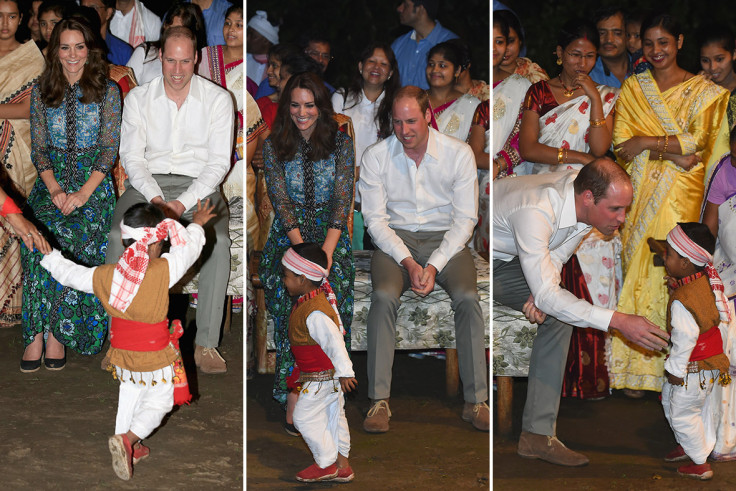 Prince William affectionately greeted the young boy with palms folded in a traditional Namaste. But the mischievous three-year-old, who was participating in a traditional performance of the Bihu dance, staged in honour of the royals, had the couple in a fit of giggles as he playfully tried to stamp on their feet.
The Duke and Duchess were entranced by the youngster, pointing him out in the group of dancers and drummers. Prince William tried to attract his attention, but the child quickly clung to his mother.
Watching the traditional dance performance the Duchess said the little girls reminded her of 11-month-old Princess Charlotte Mail Online reports. She told the villagers she was 'feeling sad today' because she is missing her children adding: "The next time we come, we will definitely bring them."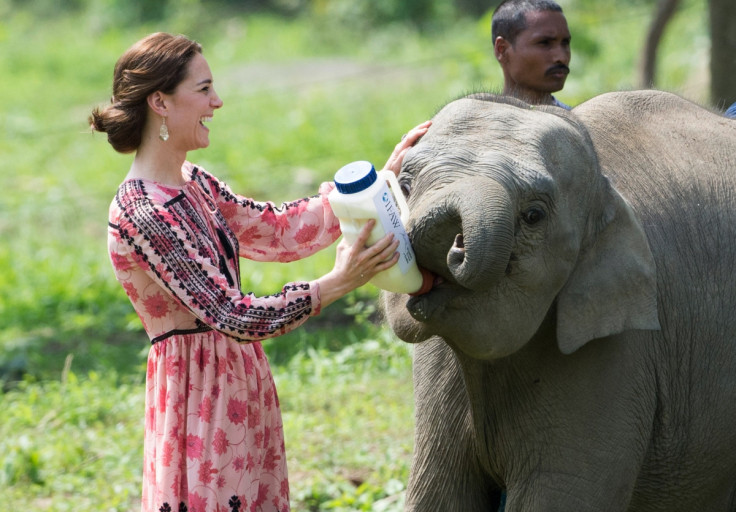 Today the royals had the opportunity to feed a young elephant and play with a baby rhino during a visit to the Centre for Wildlife Rehabilitation and Conservation (CWRC) at Panbari reserve forest in Kaziranga, in the northeastern state of Assam, India.
The couple have spent much of their first three days in India meeting children and charities which work with them. They will leave for the isolated Himalayan kingdom of Bhutan on Thursday (April 14), before returning to India on Saturday (April 16) to visit the Taj Mahal.