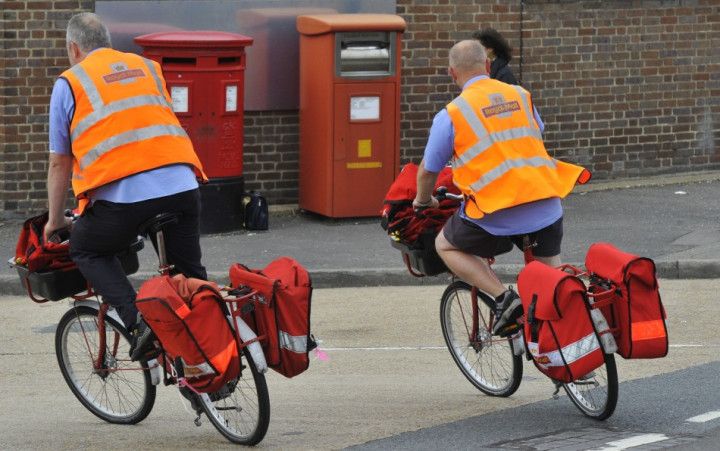 Royal Mail shares tumbled in early London trading on 22 July after it said increasing competition in the UK parcels market means it may not hit its full-year financial targets.
Instead, the postal operator said it would have to rely on keeping its costs anchored and ensuring the better-than-expected performance of its letters business continues to flourish in a hope to still achieve its financial targets.
In an interim statement, Royal Mail said its group revenues were up 2% but that its UK parcels revenues had dipped by 1%. Its share prices lost around 4% when trading began, but recovered slightly soon after.
The communications firm, which was privatised in October 2014 in a controversial sell off by the UK government, has complained to the industry regulator about what it sees as an unfair competitive threat from rival TNT Post UK.
"Given the increasing challenges we are facing in the UK parcels market, our parcels revenue for the year is likely to be lower than we had anticipated," said Moya Greene, chief executive of Royal Mail.
"However, through cost control measures and with continued good letters performance we expect to be able to offset the impact on profit such that our overall performance would remain in line with our expectations for the full year.
"Our parcels revenue will be dependent on our performance in the second half, which includes the Christmas trading period, and on no further weakening in our addressable UK parcels market."
Royal Mail warned that activities by TNT are putting its ability to carry out the Universal Service Obligation (USO), which requires it to run a high-cost infrastructure so it can deliver mail six days a week to all parts of the country.
TNT has started to deliver and sort its own mail in Manchester and some parts of London. Ordinarily, through so-called "Access" contracts, Royal Mail delivers mail sorted by others on the last leg of its journey for a fee.
In January 2014, Royal Mail said it would offer a discount on Access contracts of 25p per item for customers who provide monthly forecasts of mail volumes that allow the firm to better prepare itself for deliveries.
However, the newly privatised firm also hiked Access contract prices by as much as RPI inflation plus 1% to protect revenues as the UK postal market declines in size.
TNT lodged a complaint with Ofcom about the rises and the watchdog opened an investigation. As a result of the probe, Royal Mail suspended its planned price rises.
Royal Mail said TNT's decision to sort and deliver its own mail allowed it to "cherry pick" lucrative areas in a way it cannot because of the USO, putting it at an unfair disadvantage.
This, Royal Mail said, would see its revenue drop by £200m in the years to 2017/18 and would put the USO at risk as a result. It put in its own complaint to Ofcom.
But TNT Post UK said that there is "not a shred of evidence that postal delivery competition is a threat to the USO".