In one of the least surprising announcements of the summer, Boris Johnson has confirmed he has "whacked in" his application to become the Tory election candidate in a safe west London seat.
And, despite all the denials of a stitch up to ease him into the Uxbridge and South Ruislip constituency, few in Westminster believe this is not part of a well-orchestrated campaign to get the Tories' biggest celebrity back into parliament next year.
It would be a huge surprise if the local party decided to select a different, less recognisable candidate on 12 September and there are others who would be only too happy to have the most recognisable Tory celebrity as their MP.
So the speculation has again erupted around Johnson's longer-term ambitions to succeed David Cameron as Tory party leader; something he has blustered and obfuscated about in the past but which those who know him don't doubt is his ultimate aim.
Johnson ended months of dodging when he finally revealed his plan to find a seat earlier this month. That, too, came as no great surprise but did fly in the face of previous remarks he has made about believing the job of London mayor required his full attention.
If elected to parliament, he will do both jobs until his term in City hall ends in 2016. That has already led Labour opponents, notably possible mayoral candidate Diane Abbott, to accuse him of using London to advance his ambitions before abandoning it when it suited him.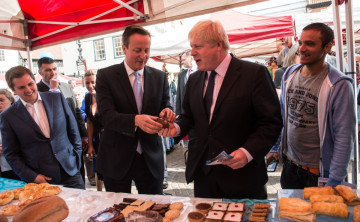 It will put him in position to launch a leadership bid if and when Cameron stands down, either by choice a couple of years or so after winning in 2015, or after being pushed if he fails again to win an outright majority.
In the second scenario, Johnson would have no option but to quit as mayor in order to fight for the leadership.
This sort of speculation will clearly irritate Cameron but he will worry about it nearer the time. For the moment he is clearly delighted to have his "star player" on the team for the general election where his talents of engaging with the public will be used to their full extent.
It also means he will be able to keep a very close eye on his potential challenger, expect regular shows of loyalty from him and wind him into the election campaign team so that, should disaster strike, he will be as tainted by it as any other senior Tory.
There have even been suggestions Cameron was instrumental in the latest development, made possible by the "helpful" retirement of the sitting MP Sir John Randall who holds the seat with an 11,000 majority.
Other ministers likely to want to keep a watchful eye on Johnson will include chancellor George Osborne and Home Secretary Theresa May who know they will face him in a future leadership campaign.
It is certainly the case that Johnson is popular amongst voters of all parties, partly because of his celebrity status but also for his disarming and self-deprecating style.
But it would be a mistake to think his buffoonish character means he is not a calculating, clever and hugely ambitious politician whose eyes have been focussed on the top prize for a very long time.
Uxbridge will very likely enjoy having him as their MP, even if a large number of Heathrow employees might not like his opposition to a third runway. And there are other constituencies who may have hoped he would look to them for his big chance.
They included Bexhill and Battle, whose MP Greg Barker is leaving and north-west Hampshire, where Tory chief whip Sir George Young is also standing down. There had even been speculation Zac Goldsmith might stand down in Richmond Park to make way for Boris.
But it appears they are not going to get the chance. That will disappoint many, but the Boris factor does not have everyone under its spell. There are still plenty of constituency workers who believe he is an accident waiting to happen.