World Cup organisers England Rugby 2015 have included just one Premiership venue on the 17-strong venue shortlist for consideration to host the tournament.
Gloucester's Kingsholm has been selected ahead of Leicester Tigers' Welford Road and Harlequins' home at the Twickenham Stoop along with 13 football stadiums.
England's home Twickenham and the Millennium Stadium, which hosts both Wales rugby and football teams are also included while the Olympic Stadium, which is still without a permanent tenant, completes the list.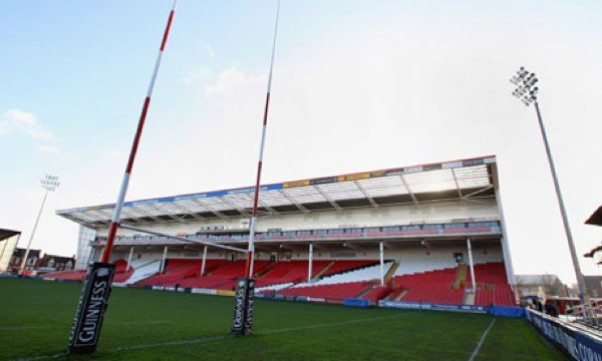 Each venue from the 15 cities was evaluated and assessed for capacity, media and safety requirements, prior to the list being shortened to 12 in time for the 48-match six-week event, taking place from 18 September to 31 October.
"The selection procedure took into account a geographical spread across the country, sporting and facilities criteria, levels of support from candidate host cities and capacity requirements for the successful delivery of a Rugby World Cup that will see approximately 2.9million tickets being made available to fans, and upwards of 400,000 international fans visiting England from over 100 countries," an ER 2015 statement read.
"In order to undertake the next stage in the venue selection process, ER 2015 will continue to hold positive discussions with the venues in collaboration with their respective city councils, regional authorities and other stakeholders, including the Premier League and Football League.
"The Pool Allocation Draw for Rugby World Cup 2015 takes place on December 3 2012, after which ER 2015 and RWCL will be in a position to work through the fixture schedule with all stakeholders to select a final list of up to 12 venues, which will be concluded by spring next year.
"Following the selection of match venues, England Rugby 2015 will also subsequently be selecting a range of training and team base camps at locations throughout the country, as well as numerous locations for fan zones, in order to deliver a sporting and cultural celebration that will bring together the British sporting community across the length and breadth of the country, and the global Rugby family, for a festival of world class sport, culture and hospitality."
Old Trafford, which has hosted the Rugby League Grand Final ever since the introduction of the play-off system in 1998 and will also be the venue for the 2013 Rugby League World Cup Final, is the only football ground with rugby pedigree apart from Twickenham having hosted two England home internationals.
St Mary's Stadium, Stadiummk, Coventry Stadium and Brighton Community Stadium make up several of the included football stadia, but the refusal to incorporate more venues from the Premiership has left a sour taste, with English rugby's most successful club side, Leicester, whose Welford Road ground is the highest profile to be omitted, excluded from selection
"We are hugely disappointed to learn that Welford Road will not play a part in England's hosting of the Rugby World Cup in 2015," Leicester chairman Peter Tom said.
"Welford Road has hosted many, many major occasions over the years, including visits from South Africa, Australia and Argentina national teams in recent seasons. It is home to the best-supported and most successful club in the history of the professional game in this country and, as such, we believe is worthy of Rugby World Cup status.
"That the organisers of RWC2015 do not think this an appropriate venue for its fixtures is disappointing and confusing both for the professional club game in this country and for its supporters."
Full list of World Cup 2015 stadiums:
Villa Park, Brighton Community Stadium, Ashton Gate, Millennium Stadium, Coventry Stadium, Pride Park, Kingsholm, Elland Road, Leicester City Stadium, Olympic Stadium, Twickenham Stadium, Wembley, Old Trafford, Stadiummk, St James' Park, St Mary's Stadium, Stadium of Light.