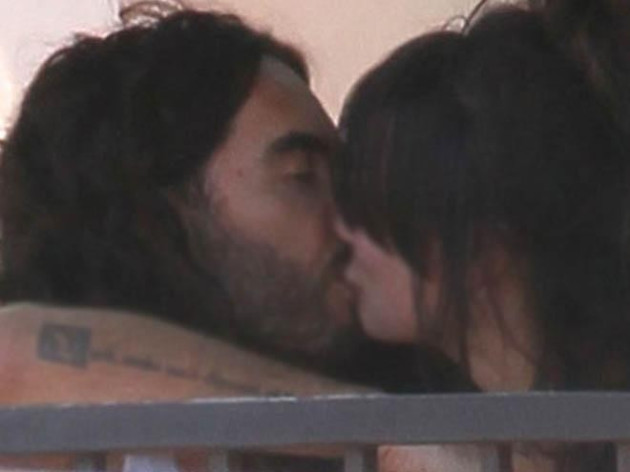 Comedian Russell Brand says he wants to get married and settle down, telling the BBC's Kirsty Young: "'Oh my God, the things that I want are a wife, and somewhere to live."
The star was pictured in an amorous clinch with stylist Nicole Schuller at a Hollywood café this week. Speaking on Radio 4's Desert Island Discs programme, Brand told presenter Young of his hopes of remarrying, after his marriage to singer Katy Perry ended in divorce last year.
Brand and Schuller have known each other for a decade, but only recently became romantically involved.
Brand, 38, said: "I was talking to some friends yesterday and I thought, 'Oh my God, the things that I want are a wife, somewhere to live.'
"However extraordinary and exciting I might like to present myself as being, in the end, I'd just like to sit down and watch telly with someone and hold hands."
Brand also alluded to the infamous episode where he and presenter Jonathan Ross left obscene messages on the answering machine of Fawlty Towers actor Andrew Sachs, which led to Ross being suspended by the BBC.
He accused the Daily Mail newspaper of acting disingenuously in its reporting of the incident.
"Listen, Kirsty, after the show there were two complaints," said Brand. "After it was in the Daily Mail there were subsequently 42,000 complaints.
"I'm sure their offence was genuine - it was wrong, and I apologise for that - but how the information is presented is important."
The prank call, dubbed "Sachsgate" by tabloids, initially received little attention, but following an article in the Mail on Sunday, the BBC received 42,000 complaints.
Brand told Young: "The thing I want to address here, the thing that 42,000 people were offended by is offensive. It is offensive if someone calls up an answerphone, does some swearing, hangs up.
"But if, incrementally, that act is led to by a series of innuendos and in-jokes, then it is a different thing. It is still a thing that is wrong, but it's not the thing that they are offended by."
The Daily Mail declined to comment on Brand's remarks.