Russia: 5 men in the frame for the murder of Boris Nemtsov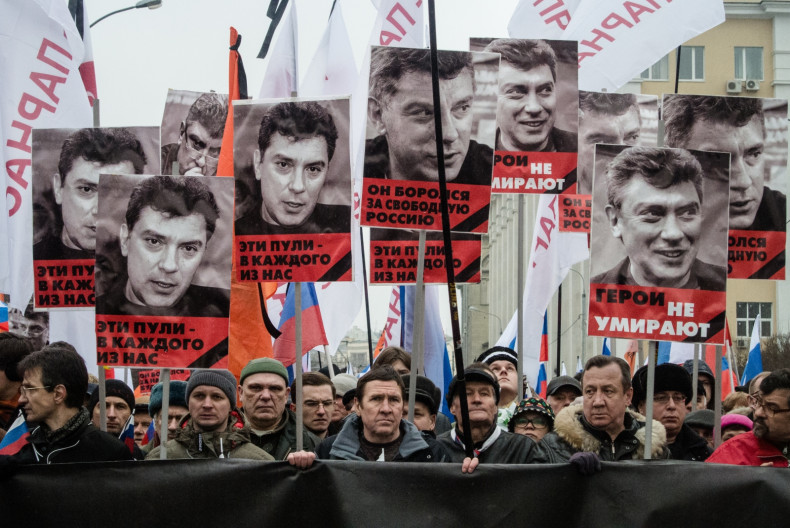 With the high-profile arrest of five men in the shooting of Russian opposition leader and veteran politician Boris Nemtsov, there are plenty who will hope a quick trial will put the tragic event to bed.
But the scepticism of Nemtsov's friends about the official reasons that the 55-year-old was targeted have been joined by conspiracy theories of varying credibility both inside and outside Russia. Here, IBTimes UK takes a look at five potential culprits.
The Kremlin
That the Kremlin was behind the slaying of an increasingly outspoken rival was undoubtedly the most popular view in the wake of Nemtsov's death, even after the arrests of five people including a prominent Chechen Islamist, Zaur Dadaev.
First off, there is precedent. A number of prominent Kremlin critics have met a sticky end in Russia over the past 15 years, including journalist Anna Politkovskaya, shot dead in a lift at her block of flats, and the high-profile poisoning of Russian defector Alexander Litvinenko in 2006.
Following his shooting, a friend said Nemtsov – a former deputy prime minister and rival of Putin's even under former premier Boris Yeltsin – was about to reveal evidence of active Russian involvement in Ukraine's civil war, which he had vehemently opposed.
Disgruntled Russian nationalists
But critics of the above view point out the Nemtsov slaying was hardly in the traditional mould of alleged state-sanctioned killings in Russia. While many of previous cases achieved much publicity, the killers did not go out of their way to openly court it.
The killing of Nemtsov took place within close proximity to Russia's best known and most symbolic landmarks - and in the days following his death, news reports from the crime scene actually have the Kremlin in shot. Would a Kremlin hit on a high-profile rival be so brazen?
Hence the view that while the Kremlin or the FSB may have had no involvement in Nemtsov's death, sympathisers with the Russian regime may have. Nemtsov's opposition to the annexation of Crimea will certainly have riled those who hark to the days of Greater Russia.
Chechen Islamists
The official line is Nemtsov was killed by Islamist Chechens angered by his show of solidarity with the Charlie Hebdo cartoonists killed in Paris in January. Former Chechen police officer Zaur Dadaev and Moscow security guard Anzor Gubashev have been charged in connection with the killing, with Dadaev allegedly confessing he killed Nemtsov due to his negative statements about Muslims.
Chechnya's pro-Putin ruler, Ramzan Kadyrov, linked Nemtsov's murder to the outrage over the Charlie Hebdo cartoons mocking the Prophet Mohammed earlier in March, saying: "Anyone who knows Zaur confirms that he is a deeply religious man, and that he, like all Muslims, was shocked by the actions of Charlie and comments in support of printing the cartoons."
Critics of this view point out Islamists, and particularly those from Chechnya, are often blamed for attacks in Russia, and more practically that it would have been near on impossible for a rogue outfit of Chechen militants to assassinate a senior Russia politician within a few hundred metres of the country's most secure building and then simply drive away.
On 10 March, it was revealed a car linked to the shooting had been spotted outside Nemtsov's house months before the murder, adding credibility to the view that his murder had nothing to do with the Charlie Hebdo massacre.
The West and/or Ukrainian nationalists
Early claims from nationalist voices inside Russia came to the somewhat predictable conclusion that the West was behind the assassination of Nemtsov, with pro-Kremlin TV anchorman quoted by the BBC as saying: "When he was alive, Nemtsov was no longer necessary to the West, he had no prospects. But dead, he was a lot more interesting."
It is a view held by some in Russia that the 2014 Ukrainian uprising was orchestrated by Western security services, in particularly the CIA, and Putin's condemnation of Nemtsov's murder as a "provocation" rung of insinuation that foreign agents were behind it.
Pro-government newspaper Izvestia went one step further in alleging Ukrainian nationalists may have had Nemtsov killed – this despite the current president of Ukraine lauding the opposition leader as a "friend of Ukraine" and his outspoken opposition to any Russian involvement in the conflict.
The Mob
Russian opposition figure Alexei Navalny has been open about his suspicions of Kremlin involvement in the death of his friend, he also alluded to the fact that Nemtsov had made some enemies in the organised crime world during his many anti-corruption campaigns.
In a post on his blog, Navalny – who could not attend Nemtsov's funeral as he had been arrested for leafleting – said his friend had "serious bad blood with the governors of the Yaroslavl Region and local crooks".