Boris Nemtsov murder: Two suspects detained in killing named as Anzor Gubashev and Zaur Dadaev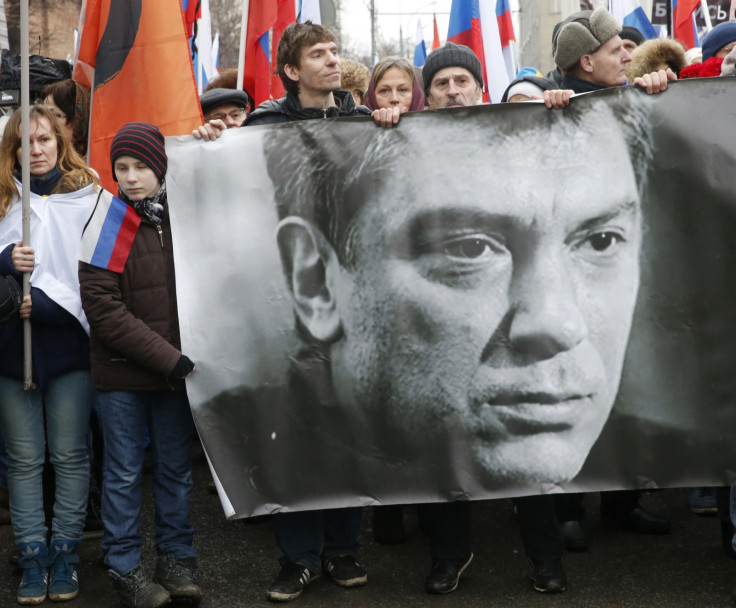 The identities of the two suspects detained after the killing opposition politician Boris Nemtsov have now been confirmed.
Earlier today the head of Russia's federal security service, the FSB, said that Anzor Gubashev and Zaur Dadaev had been detained, according to an AP report.
On Russian state television FSB chief Alexander Bortnikov said that the two suspects are from Russia's North Caucasus region. He stated that they were "suspected of carrying out this crime," but it remains unclear whether either man is suspected of shooting Nemtsov as he walked over a bridge near the Kremlin on February 28th. No charges have so far been announced.
Oppositions supporters suspect the killing came in retaliation for Nemtsov's criticisms of President Vladimir Putin. The 55-year-old had been compiling a report about Russian military involvement in the Ukraine conflict.
Many Russians believe that Nemtsov's death in a security zone near the Kremlin could not have taken place without official collusion and that it might be an attempt to intimidate opponents of the government.
Kremlin critics say the spiteful nationalist propaganda on state television, which cast Nemtsov and other liberals as Western stooges, helped prepare the ground for his killing.
"The atmosphere of mad aggression created by the state television... has signaled that you could do anything to the people expressing a different view, this will benefit the Motherland," Dmitry Muratov, the editor of the Novaya Gazeta, a newspaper critical of the Kremlin, told AP on Friday. Meanwhile President Putin has labelled Nemtsov's killing as a "provocation."
One of Nemtsov's political allies, Ilya Yashin, posted comments on Facebook about the detention of the two suspects: "It's hard to judge whether these are the real performers if the investigation has gone down a false track." He continued: "It's extremely important that the matter is not limited to detention of the shooters, whether these are the real killers or not. The key task is the identification and detention of those who ordered the attack".
Another leading opposition politician, former Prime Minister Mikhail Kasyanov, has made statements to the news agency Interfax: "For the time being, it's very skimpy information, which tells us little, but it's good that the first results of the investigation has appeared."
The North Caucasus region from which the suspects are reported to come includes Chechnya. Rebels there have fought two wars against Russia during the past 20 years. Opposition figures have now uncovered a statement from the Chechen government dating back to 2010 which says that one "Zaur Dadaev" was among the police troops awarded medals. But whether this is the same individual and the extent to which he might have been involved in the brutal repression of rebel forces in Chechnya is so far unknown.
© Copyright IBTimes 2023. All rights reserved.