British Royal Navy's HMS Queen Elizabeth was welcomed by Russian mockery as it embarked on its maiden voyage. The Russian defence ministry has said that the giant vessel is nothing more than a "large convenient target". The statement from Moscow comes after Defence Secretary Michael Fallon described Russia's Admiral Kuznetsov aircraft carrier as "old and dilapidated".
The ministry also went on to deride Fallon saying his remarks showcase "his absolute ignorance of the naval science".
The 65,000-tonne giant warship, the UK's biggest and most advanced vessel, set sail on Monday, 26 June from Scotland and is currently in the North Sea. The vessel, nicknamed Big Lizzie, was built at a cost of £3.1bn.
Touting the huge new aircraft carrier's prowess, Fallon had earlier said Moscow would envious of the vessel and compared it with the ageing Admiral Kuznetsov, Russia's sole aircraft carrier.
Stung by the British defence secretary's remarks, Moscow's counterpart ministry hit back saying such comments reveal Fallon's lack of knowledge regarding naval systems. "The British aircraft carrier is nothing more than just a huge easy naval target. The ecstatic statements of Michael Fallon about the exterior supremacy of the new aircraft carrier over Russia's Admiral Kuznetsov warship demonstrate his absolute ignorance of the naval science," Russian defence ministry spokesman Major-General Igor Konashenkov said.
He then went on to list an array of missiles anti-ship and anti-submarine missiles stocked in Kuznetsov – which is usually accompanied by a naval tug in case the carrier breaks down – while pointing out that Elizabeth will be limited to use of the weapons of F-35B aircraft onboard.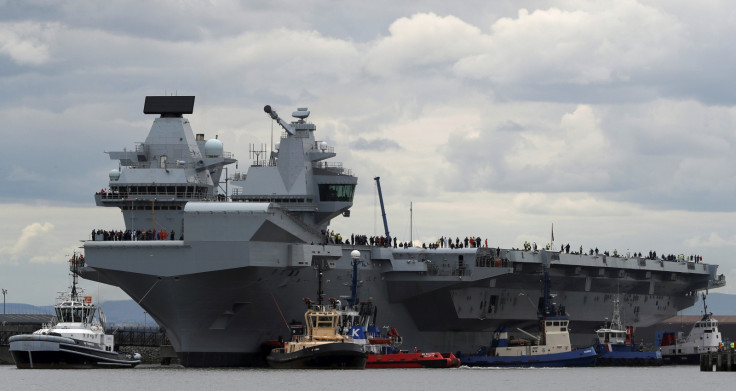 "Like a bee, the British aircraft carrier is only capable of independently releasing planes from its belly closely flanked by a swarm of warships, support ships and submarines to protect it. That is why ... the British aircraft carrier is merely a large convenient naval target," the Russian ministry pushed back warning the British vessel to maintain a safe distance from Moscow's naval fleet.
This is not the first clash of words over naval pride between Britain and Russia. In January 2017, Fallon branded Kuznetsov a "ship of shame" as it sailed close to the waters off English coast returning from its Syria campaign. At that time, Russia took a potshot saying that the escorting Kuznetsov demonstrates shortcomings of the British navy.