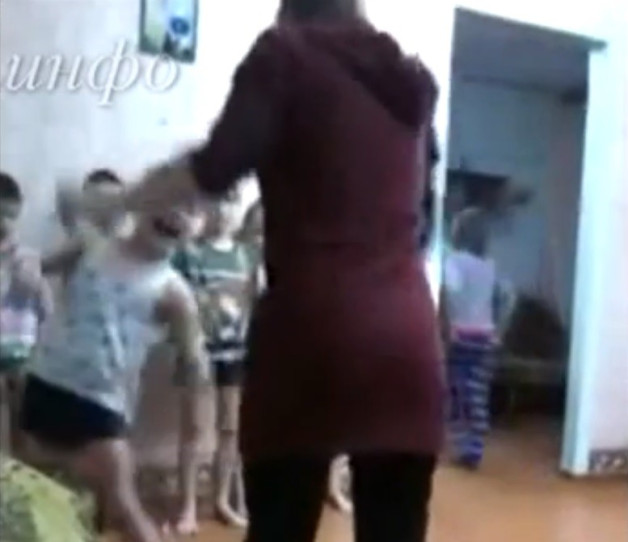 Two caretakers are being investigated in Russia over allegations that they tortured orphans after footage showing children being indiscriminately beaten at an orphanage went viral on the internet.
The video shows seven boys, wearing only their underwear, lined up against a wall as a caretaker calls them forward in turn and lashes them with a belt.
The boys shriek and wail as the caretaker, a woman, kicks and shoves them.
The video, shot on a mobile phone at the Mazanovsky orphanage in the far eastern region of Amur, became an internet sensation and sparked national outrage.
Russia's investigative committee began a criminal investigation into the two caretakers, both teenagers who are themselves products of the orphanage.
A third suspect, also a caretaker, was born in 1998 and is therefore too young to be investigated, the committee said.
The boys, all aged between seven and 10, are undergoing psychological counselling, it added. The director of the orphanage, home to 129 children, has been fired.
The scandal casts further attention on the poor state of Russia's orphanage system, which remains little changed from Soviet times.
Russia's children's rights ombudsman, Pavel Astakhov, said about 650,000 children are currently in Russian orphanages.
One employee of the Mazanovsky orphanage, speaking anonymously, told local news portal Amur.info that the school had a reputation for staff severity.
She recalled a conversation with one of the caretakers: "She said, 'I was beaten in the orphanage, and I will beat.'"
Astakhov wrote on Twitter: "Cruelty and violence among children is a scary and dangerous trend, which the whole world must battle, uniting the efforts of society and the government."
In December, Russia banned Americans from adopting Russian children as a tit-for-tat reaction to a US law barring Russians suspected of involvement in the death of lawyer Sergei Magnitsky from entering the US or keeping bank accounts there.
Last month, Putin said Russia would consider banning foreign same-sex couples from adopting Russian children, after France legalised same-sex marriage.