Russia recession brewing as economy shrinks for first time since 2009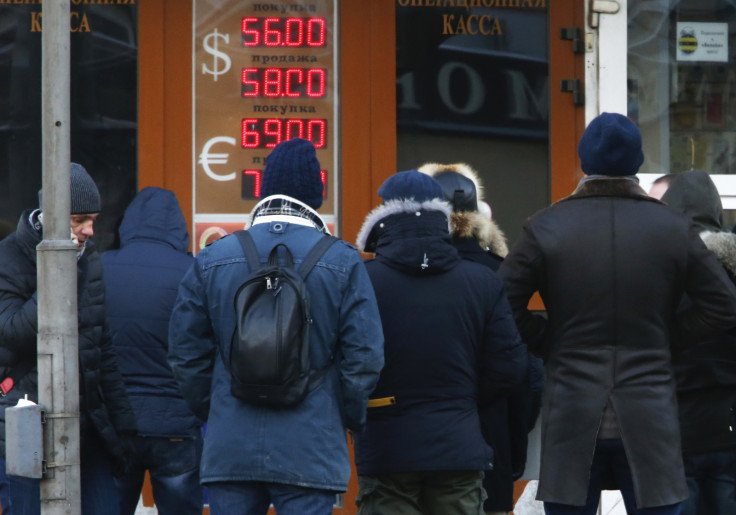 Russia's economy contracted 0.5% in November according to official figures, as the country witnessed the first fall in national output for five years.
The Russian government has predicted the economy to shrink by 0.8% in 2015, while annualised growth for 2014 is expected to be no higher than 0.6%.
Russia's economy has suffered amid plunging oil prices in the second half of 2014.
Moscow relies heavily on energy exports, which fund around half of its state budget. Oil and gas exports also account for around two thirds of Russia's overall exports.
Oil prices have fallen by around half since June and it was trading at around $60 a barrel in London on Monday afternoon (29 December), meaning that Russia is earning much less from its oil sales.
Meanwhile the Russian ruble has plunged against the dollar at around the same rate as the price of oil has fallen. In a volatile day on Monday, the ruble fell a further 6% against the dollar to around 57.
Economic sanctions too have hurt Russia's economy, as banks and businesses have been cut off from international financial markets and barred from dealing with some key Western technology and defence companies.
As the economic crisis unfolds, the Kremlin has altered government policy in a bid to prop up businesses in trouble as well as the currency.
Russian President Vladimir Putin signed a new law on Monday that doubles the deposit guarantees for bank accounts to 1.4m rubles (£16,290, $25,370.) The Kremlin had already given the Russian central bank the ability to recapitalise Sberbank, the country's leading retail lender, with soft loans.
© Copyright IBTimes 2023. All rights reserved.