Russia's "rising aggression" has been named as a top-tier risk to British security, according to a preliminary review of the country's national security. Uncertainty surrounding the cause of the Metrojet flight 9268 crash has caused heightened security concerns after the flight carrying Russian holiday-goers from Sharm el-Sheikh to St Petersburg, crashed the Sinai peninsula last week.
The escalation of the Russian threat to the security of the UK and Western Europe is part of a larger list of what the UK government believes to be high-priority risks to national security. These include:
Migration, due to instability in the Arab world,
Terrorism, such as radicalisation by extremist groups such as Isis,
Cybersecurity,
Organised crime, and
global health scares, such as the West African Ebola crisis.
The risk assessment is part of a wider review of Britain's defence, which is released every five years and will be key in in the UK's overall national security strategy for the next five years.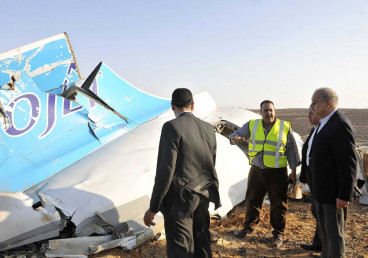 This is a major change to the last security strategy from 2010, in which Russia was not mentioned. "Since 2012, Russia has become more aggressive, more authoritarian and more nationalist, and increasingly defines itself with opposition to the West," a Whitehall source told the Times, hinting that Russian president Putin's actions in Ukraine has led Russia to the top of the danger list. "It's annexation of Crimea in 2014 shows that," he added.
"The last five years have seen a range of international developments, ranging from the growth of radicalisation and fundamentalism to growing concerns around our energy supply, and rising aggression from Russia," reads the next National Security Strategy.
International terrorism is also a top priority for the defense strategy, as radicalisation by terrorist groups such as Islamic state, which is "now seen a serious threat in destabilised parts of the world", according to the House of Lords.
What the UK's next National Security Strategy will focus on:

International terrorism threat from interactions between the Islamic State of Iraq and the Levant (Islamic State) and Al-Qaeda and their encouragement of others to follow in their path.
UK jihadists returning from Syria, Iraq and other troubled areas.
Religious fundamentalism and intolerance across religions.
Ukraine's volatile situation after the annexation of Crimea and the shooting down of a Malaysia civilian plane.
Russia's increased aggression including increased military spending and apparent willingness to display force.
Uprisings against authoritarian regimes, but generated political upheaval, civil disorder, and conflict across North Africa and the Middle East.
China's authoritarianism and persistent human rights abuses on the part of the Chinese government.
Cybersecurity and organised crime.
Increasing levels of forced population movement and migration, stemming from a variety of causes including conflict, economic instability and the impact of a changing climate.
Climate change.
Energy infrastructure.
Economic shifts and stagnation in the Eurozone.

Source: The House of Lords, House of Commons. View full report.