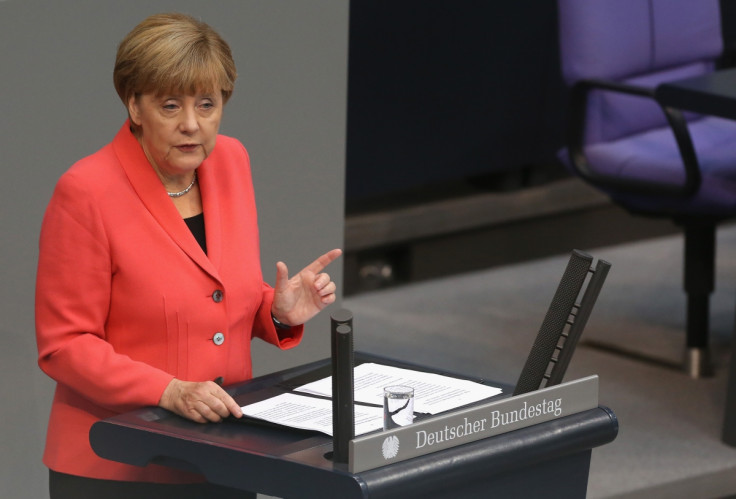 German Chancellor Angela Merkel has said Russia and the US need to step up and play their part in tackling the root causes of Europe's migrant crisis in Syria. Speaking in the German parliament, she told lawmakers a solution to the crisis was far off and would require support from around the globe.
Merkel said a resolution could "only happen with the support of our transatlantic partners, the United States, as well as with Russia and the states of the region of the Middle East because of the dreadful situation in Syria", Reuters reported.
The United States has said it will take 10,000 Syrian refugees over the next year. The US National Security Council has said the US is the single largest donor to the Syrian crisis response, having given over $4bn (£2.6bn) since 2011.
Russian President Vladimir Putin has called Europe's migrant crisis "predictable" and blamed the influx of refugees on Western foreign policy. He has repeatedly called on the US and the UK to back the Syrian government in Damascus and the Assad regime. Russia has been increasing its military support to government forces, to the condemnation of the United States.
Following an emergency meeting to discuss the migrant crisis, EU leaders pledged at least €1bn (£700m, $1.1bn) for Syrian refugees in neighbouring countries in the Middle East and closer cooperation to help reduce the flow of migrants into Europe.
The EU has also approved plans set out by the commission to relocate 120,000 refugees and migrants across the 28 member bloc despite resistance from the eastern European nations of Romania, the Czech Republic, Slovakia and Hungary. In the aftermath of the vote, Slovakian Prime Minister Robert Fico said he would not implement the quota system.