Russia wants to start a third world war over Ukraine, interim prime minister Arseniy Yatsenyuk has warned.
Yatsenuk accused the Kremlin of aiming to occupy Ukraine and bring war to Europe almost 70 years after the end of World War II.
"The aggressive efforts of the Russian military on Ukraine's soil will lead to a conflict on European soil,'' Yatsenyuk said in a televised cabinet meeting.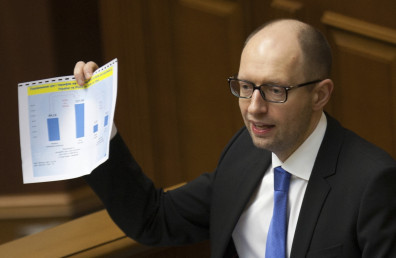 "The world hasn't forgotten the Second World War and Russia wants to start a third world war.''
Yatsenyuk called for international help against what he described as "Russian aggression" against his country.
"Russia's support for the terrorists in Ukraine constitutes an international crime and we call on the international community to unite against the Russian aggression.''
The comments came as Russia launched a large military drill involving ground and air forces near its border with Ukraine.
The exercise came in response to an operation by Ukrainian government forces to retake control of government buildings occupied by pro-Russian insurgents in more than 10 cities in the east.
Five separatists were killed in clashes to retake Slaviansk.
Kiev and the US have published photos supporting claims that Russian Special Forces were actively leading or supporting insurgents.
Moscow rejected the accusations and claimed that the crisis came as a consequence of a Western plot to control Ukraine.
"The West wants — and this is how it all began — to seize control of Ukraine because of their own political ambitions, not in the interests of the Ukrainian people," Russian foreign ministry Sergei Lavrov said.