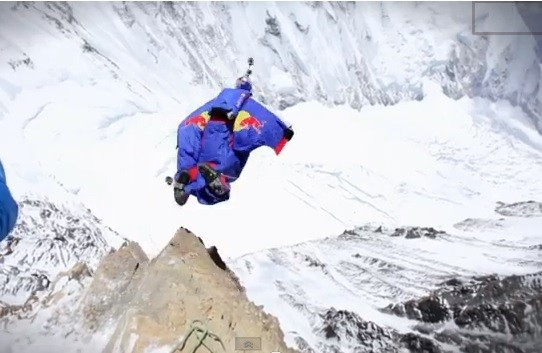 A Russian man has broken the world record for the world's highest base jump, leaping over seven kilometres from Mount Everest.
Extreme sports star Valery Rozov, 48, jumped 7220 metres from the north face of the world's highest peak, almost 60 years to the day Edmund Hilary and Sherpa Tenzing Norgay became the first people to reach its summit.
The jump was sponsored by Red Bull, which also funded Felix Baumgartner's record-breaking space dive in October last year - he broke the sound barrier during his 24-mile fall to Earth, reaching speeds of 800mph.
Rozov's record-breaking attempt began with him climbing Everest on the Chinese side. It took four days to climb from the base camp to the location of the jump.
He leapt from the mountain at around 2.30pm local time despite adverse weather conditions and temperatures of -18C.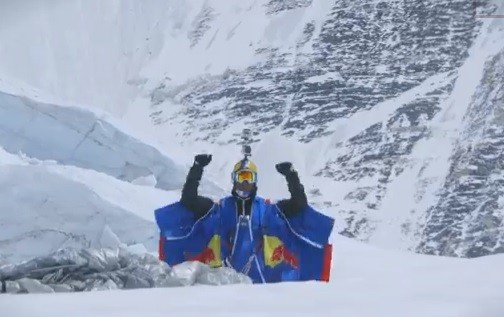 Red Bull said: "Because the cliff at the top was not very high, the initial moments of the leap in the rarified high altitude air were the most critical phase. Rozov needed more time than usual in the thin air to transition from freefall to flying.
"After that he flew for nearly a full minute at speeds of about 200 km/h (125 mph) along the north face before he landed safely on the Rongbuk glacier - at an altitude of 5,950 meters."
Rozov has over 9,000 jumps under his belt, having started base jumping in 1993. Since then he has won a number of championship titles in his field, including World Champion, European Champion and X-Games Skysurfing Champion.
He also became the first person ever to skydive in his wingsuit into the crater of the Mutnovsky volcano in Russia in 2009.
Speaking about the Everest jump after he had completed it, he said: "Only when I got back home did I see how hard it was for me both physically and psychologically."