The Russian Ministry of Defense says it is ready to accept the "Nerekhta", a robot light tank or unmanned ground vehicle (UGV), after it aced manned combat vehicles on several indicators in tests and exercises held late October.
The Ministry did not say which manned platforms the Nerekhta outperformed, but vehicles of similar size and armament with Russia are the BRDM reconnaissance vehicle and GAZ Tigr, said a report by Defense One (DO). It was not clear which "indicators" the robot tank did well on during the tests by the Ministry at Alabino outside Moscow.
The Nerekhta platform comes in combat, transport and artillery reconnaissance versions, reports Russian news outlet Military Review (MR). The combat version has two options for its main armament: a 12.7-mm Kord machine gun or a 7.62-mm Kalashnikov tank machine gun. The report says that in addition to the gun, the robot can be equipped with an AG-30M grenade launcher.
"It will be used in the current version," said Colonel Oleg Pomazuev, head of the department of innovation research at the Main Directorate of Research Activities (GU NID) of the Ministry of Defense. He said the robot now performs reconnaissance, demining and firefighting roles but in future will be considered for shock assault roles.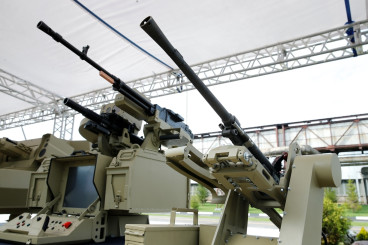 The Zapad2017 war games held by Russia and Belarus in September this year also ran tests on a number of unmanned ground vehicles and autonomous IED disposal vehicles, reports DO. One of the UGVs tested was the Platforma-M, a robot tank similar to the Nerekhta.
Kalashnikov, Russia's largest weapons maker, said earlier this year that it will unveil its own UGV.
The MR report says that the Defense Ministry will also conduct tests on other robots, named the "Companion" and "Uran-9", before making a final decision on inducting them for various roles in the military.