The daughter of a Russian oligarch who killed six people during a "drag race" wept in a prison cell after being taken into custody.
Alyona Zaitseva, 20, was travelling at 60mph when she crashed into pedestrians at a junction in Kharkiv, Ukraine. While initial blood results showed no alcohol or drugs in her system, traces of cannabis were found in her urine in later tests pointing to the fact she may have been high while driving.
CCTV cameras suggests she could have been racing another car moments before colliding with a vehicle and ramming into helpless pedestrians waiting at a crossing in Kharkiv, Ukraine.
Footage shows two cars side by side travelling down a busy road with lots of traffic.
The heiress will be held in custody for two months while police investigate the incident, despite attempts by her father's lawyer to compensate the victims and their families in exchange for home arrest. Zaitseva is the daughter of local energy company multi-millionaire Vasily Zaitsev.
Regional prosecutors feared that the family could use its extensive wealth to leave Ukraine if the student was freed ahead of trial.
If found guilty of dangerous driving and causing deaths, the oligarch's daughter could face a maximum of ten years in jail.
"I am sorry that this situation happened and people suffered," she said, addressing the bereaved and injured from the dock in court.
"This is the only thing that truly concerns me now. I am hoping that families will allow my parents to help them because this is the worst that could happen. All my thoughts are about it."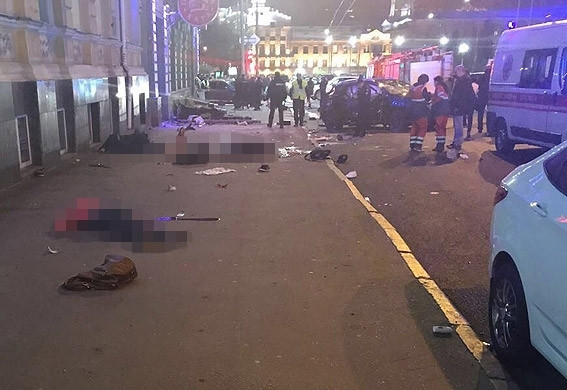 In the past two years the heiress had been caught eight times in Kharkiv for violating traffic rules and had been fined four times for speeding, according to local MP Anton Gerashchenko.
Among the injured was pregnant mother Zhanna Vlasenko, 30, who suffered from serious head injuries, although doctors say her baby is expected to survive
"The baby is stable, the mother is in medical coma but it won't hurt her baby. We need to keep watching," said Irina Lodyanaya, deputy doctor in chief of Kharkiv Regional Clinical Hospital.