The Russian Defence Ministry has reported that one of its helicopters has been shot down on 1 August near Aleppo, Syria, with five people on board, Interfax reports.
In a statement the ministry said that two crew members and three officers had been on board and it was attempting to ascertain their fate. The Kremlin subsequently said that all five were dead.
Kremlin spokesman Dmitry Peskov said the crew members on board died "heroically."
"Those who were aboard the helicopter, according to information from the Defense Ministry, have died heroically because they were attempting to steer the machine to minimize the casualties on the ground," Peskov told reporters, as quoted by TASS.
"The Kremlin offers deep condolences to the dear ones of our killed military servicemen," he added.
The Mi-8 military transport helicopter was shot down by ground fire while returning to Russia's main airbase in Syria after delivering humanitarian aid to the city of Aleppo, said the ministry.
Pictures have circulated on social media allegedly showing the downed helicopter, as well as the bodies of dead pilots. People mill around the burning wreckage taking pictures with their phones in some images.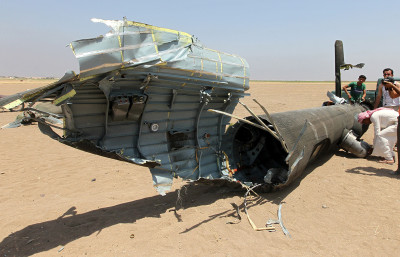 Footage of the crash site shows rocket pods from the helicopter among the wreckage, with some experts arguing that it would have still been perceived as a threat from the ground.
The Syrian military, supported by Russian air strikes, cut off rebel groups in Aleppo last month. Between 200,000 and 300,000 people are believed to be trapped in eastern Aleppo.