Russian plane crash: Isis bomb may have downed airplane officials say, as thousands of Britons stranded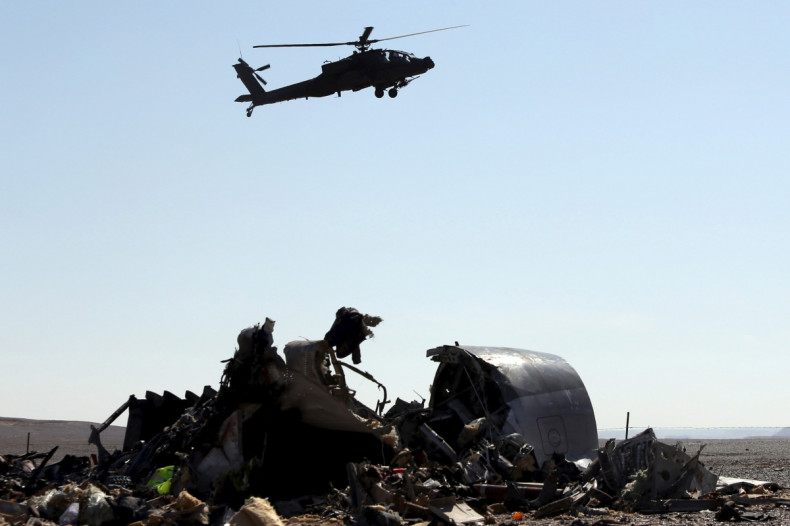 US intelligence suggests that Russia's Metrojet Flight 9268, which crashed and killed all 224 people on board in the Sinai Peninsula, was brought down by a bomb, officials announced. Since the plane crash on 31 October, a group claiming to be affiliated with Islamic State (IS) has taken responsibility for the crash via social media.
An unnamed US official told CNN that US intelligence suggests the crash was most likely caused by a bomb planted by IS or an IS affiliate. "There is a definite feeling it was an explosive device in luggage or somewhere on the plane," the official said.
According to NBC News, US officials said that investigators are looking into whether an explosive device was planted on the plane by ground crews, baggage handlers or other staff at the Sharm el-Sheikh airport before take off. Earlier investigations by US intelligence of the passenger manifest and flight crew did not reveal any suspected ties to terrorists groups.
Prime Minister David Cameron's office announced on 4 November that the British government was suspending all flights to and from Egypt's Sinai Peninsula. Following a meeting of the Government's emergency committee COBRA, Foreign Secretary Philip Hammond said: "We have concluded that there is a significant possibility that the crash was caused by an explosive device on board the aircraft. We are now advising against all but essential travel by air through Sharm el-Sheikh airport. That means that there will be no UK passenger flights out to Sharm el-Sheikh from now."
British aviation experts are traveling to the airport to examine security before UK flights can resume. "We recognise that this information may cause concern for those in Sharm and indeed for those planning to travel to Sharm in the coming days. We have deployed extra consular staff to Sharm who will be on hand at the airport,working with the airlines, to assist British holidaymakers there. For others, either in reports at Sharm or planning a holiday to Sharm in the coming days, our advice is to contact your airline or tour operator," Downing Street said.
Thousands stranded
The decision to ground all flights has stranded up to 20,000 Britons, The Daily Mail reported. Some of the affected flights include a Thomson flight to Manchester, an easyJet flight for Luton and another one to London Gatwick. Extra consular staff have been deployed to the airport.
In a statement released on its website, budget airline easyJet said, "We are working very closely with the UK Government and will give you information on our recovery plans as soon as possible." It added: "We're really sorry your flight has been cancelled and we are doing everything we can to recover the situation for you."
Terrorist plot or malfunction?
CNN reported that intelligence regarding IS had been gathered partly by monitoring internal messages of the terrorist group. The official noted that the messages were separate from public claims of responsibility by IS.
Timeline of Events
5.58am EET (3.58am GMT): Flight takes off from Sharm el-Sheikh
6.14am EET (4.14am GMT): Airplane does not make scheduled contact with air traffic control based in Cyprus
6.17am EET (4.17am GMT): Airplane crashes down over the Sinai Peninsula
The government's announcement came on the heels of a gruesome video that emerged of the burning wreckage. A doctor who examined many of the bodies recovered from the crash site told The Daily Telegraph that many of the passengers suffered serious burns so bad that they were "seriously charred" and would need DNA samples to be identified. He added that the burns must have been caused by a fire inside the cabin, which could have been caused by a bomb or as a result of an engine fire.
IS militants have claimed responsibility for bringing down the passenger jet in a statement posted on the day of the crash, but Egyptian and Russian officials have disputed the claim. Egypt has also called the UK's statement that the plane "may well" have been brought down by a bomb "premature". Downing Street's announcement will most likely not be met warmly by the Kremlin either, The Daily Telegraph noted.
Despite apprehensions by Cairo and Moscow to label the crash a terrorist attack, a black box recording revealed uncharacteristic sounds from the cockpit minutes before the crash. A source told Russian news agency Interfax, "Judging by the recording, a situation on board developed suddenly and unexpectedly for the crew, and as a result the pilots did not manage to send a distress signal."
An audio message by a terrorist group in the Sinai released on 4 November provided no evidence of its claim. "We brought it down, die in your rage. We are under no obligation to explain how it came down. Prove that we didn't bring it down and how it came down. Bring the wreckage and search it, bring your black boxes and analyse them and tell us the results of your investigation. We will detail how it came down at the time of our choosing."
The Airbus A321 ripped apart mid-air 23 minutes after take off from the resort town airport on 31 October. The plane, with 224 passengers and flight crew personnel, crashed in the Hassana area of the restive Sinai peninsula. Islamic militants have been leading an insurgency against the Egyptian government in the area. The plane was en route to St Petersburg.