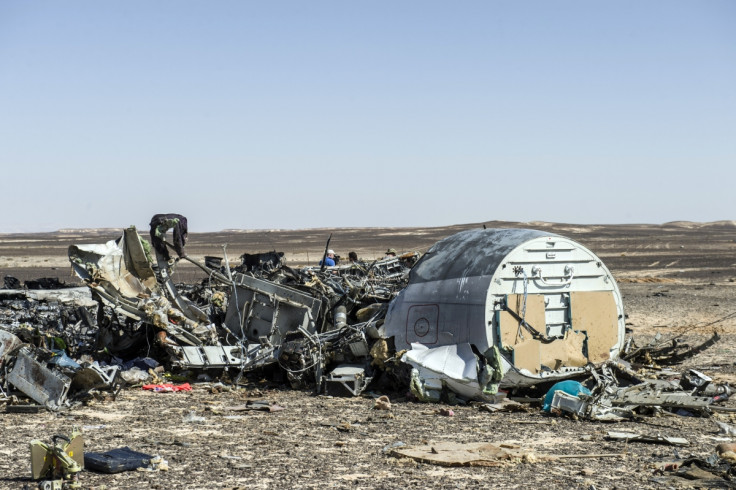 The British government has ordered the suspension of all flights to and from Egypt's Sinai Peninsula over concerns a Russian plane that crashed there at the weekend was downed by an "explosive device". The move comes after the Egyptian branch of Islamic State (Isis) released an audio statement reiterating its claim to have brought down flight 7K9268 from the Red Sea resort of Sharm el-Sheikh to St Petersburg, killing all 224 people on board.
A spokesperson for Prime Minister David Cameron said it was a precautionary measure pending the ongoing investigation into the incident. "While the investigation is still ongoing we cannot say categorically why the Russian jet crashed," the spokesperson said. "But as more information has come to light, we have become concerned that the plane may well have been brought down by an explosive device." The government said extra consular staff has been deployed to help Britons in the renowned diving resort.
Earlier on 4 November, Abu Osama al-Masri, the spokesman of IS's Egyptian offshoot Sinai Province, claimed in an audio message that the Kogalymavia Airlines flight was brought down. "We are the ones who brought it down," he said, adding the method will be revealed "in the time of our choosing".
The Airbus A321 broke up in mid-air 23 minutes after taking off from Sharm el-Sheikh airport on 31 October. It crashed in the Hassana area of the restive Sinai peninsula, where Islamist militants are leading an insurgency against the government.
Security analysts, as well as Russian and Egyptian officials, have cast doubt over IS's claims of responsibility. It seems unlikely that with the weapons systems at its disposal the Sinai Province militants would be able to down a commercial jet cruising at more than 30,000ft. Russian Transport Minister Maxim Sokolov called the claims a "fabrication".
Aviation experts have speculated whether technical failure or an explosion could have brought the plane down, with the first option being initially the most credited. Earlier this week, officials with Kogalymavia, also known as Metrojet, claimed a "mechanical impact on the plane" had caused it to go down.
Russian media reports claimed forensics analysis revealed some passengers suffered blast injuries and burns. Several airlines, including Emirates, Lufthansa and Air France-KLM, have nevertheless said they will not fly over the area until reasons for the crash are clear.
The jet was cruising at about 31,000ft, when in one minute, it lost 5,000ft and of 300kph (186mph) in speed, according Metrojet's deputy general director, Alexander Smirnov. The crew "totally lost control" and was not able to radio aviation authorities.